Right now, Hawaii is a major battleground in the fight for pesticide regulation.
In the face of pending legislation to get chemical companies to disclose the amount and types of chemicals used on fields, The Hawaii Center for Food Safety (HCFS) – a branch of the national Center for Food Safety – released the video above last spring entitled Pesticides in Paradise. The Hawaii pesticide regulation legislation passed the first committee last week and is now in the hands of the agricultural committee.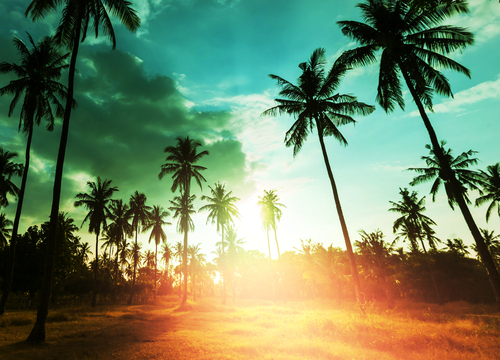 How did Hawaii take Center Stage in the Pesticide and GMO debate?
More than ever before, the Aloha State is a battleground in the fight for food safety. Within our small island state, most of the major chemical companies grow and maintain fields of GMO crops that are used as either test crops or seed crops to supply the rest of the country and the world with GMO seed (primarily corn). The year-round growing season allows for up to three crops per year of corn to be harvested, increasing the yields of the companies considerably. In the report Pesticides in Paradise, issued March 2015, HCFS explains that despite the small size of the state, Hawaii has one of the highest rates of open-air GE field tests in the U.S – in 2014, chemical companies conducted GE field tests on over 1,381 sites.

Why are Pesticides a Concern in Hawaii?
One of the main concerns for residents of Hawaii is pesticide drift. Our gorgeous weather is courtesy of fairly consistent trade winds, and when these blow, pesticides can drift into neighboring communities. Many island residents live near or adjacent to ag lands, and many schools, hospitals and other community buildings find themselves downwind of pesticides.
Honolulu Civil Beat notes that there have been 16 school closures since 2000 due to pesticide drift. "Currently, there are at least 27 schools in the state of Hawai'i within a mile of large-scale agricultural operations known to use high-volumes of restricted used pesticides. The keiki attending these schools every day must face the risk of exposure to these chemicals through pesticide drift," HFCS explains. Hawaii has also seen a spike in birth defects that is potentially linked to exposure to agricultural chemicals.

In addition to drift on the wind, agricultural chemicals can be dangerous for farmworkers, unhealthy for long-term soil health, and dangerous for our limited supply of fresh water. But perhaps most importantly, multiple studies show that our food system, our ecosystem and our bodies would be better off with organic agriculture.
Last year, the islands voted at county level to protect the health of the community by encouraging buffer zones around fields that are near schools, hospitals, and neighborhoods and for moratoriums on new GE field test crops. But the chemical companies are actually suing the counties to overturn these buffer zone laws.
The Current Legislative Session
This legislative session HCFS is working hard to get the chemical companies to simply disclose the amount and types of agricultural chemicals that are being deployed onto the land and to create buffer zones around farming operations. In a interim victory, the pesticide disclosure bill passed the first committee last week, and now it moves to the agriculture committee, where the Chair squashed a similar bill last year.
On Tuesday, House Bill 2564 was heard in front of the Ag Committee. The Washington Times reports on one testimony that held a lot of sway in the hearing:
"Kauai resident Lorna Cummings Poe told lawmakers that her granddaughters, who live in Kekaha on Kauai's west side, suffer from frequent headaches, bloody noses and respiratory infections that she attributes to restricted pesticides sprayed in nearby fields. Poe said hair samples taken from both granddaughters showed exposure to 36 different pesticides."
Watch HCFS Director Ashley Lukens explain why chemical companies need to disclose what they are spraying on their fields.

In the hearings last week and on Tuesday, Director Lukens says the conversation has shifted from that of previous years. For years the chemical companies have steered the conversation away from medical and scientific literature about pesticide exposure, Lukens writes these sessions have shown a change in what the government and the community want to listen to:
"Today legislators stopped listening to Monsanto and their cadre of lobbyists, and the conversation stayed focused on what the state must do to protect our keiki's health [and] legislators are asking the right questions of the industry, and publicly acknowledging the validity of our concerns about pesticides and the genetically engineered (GE) seed industry in Hawaii."
The House agriculture and environmental protection committees deferred decision-making on House Bill 2564 until 8:30 a.m., Feb. 16, in Room 325 at the Capitol.
How You Can Help
If you want to support those of us in Hawaii fighting for a more sustainable food system in the islands, please donate to help the Center for Food Safety push for these needed reforms here.
You can also help by spreading the word about this important legislation. Here are some suggested Tweets and Facebook posts from HCFS:
Twitter:
New animation shares truth behind what Monsanto is really doing in Hawaii. Here's a hint: they're NOT growing food. http://salsa3.salsalabs.com/o/1881/p/dia/action3/common/public/?action_KEY=18098
Our environment and health is IMPORTANT. Stand up for the people in Hawaii who are being poisoned. Watch this 3 minute video to educate yourself. http://salsa3.salsalabs.com/o/1881/p/dia/action3/common/public/?action_KEY=18098
Facebook:
63 different active ingredients. 90 different pesticide formulations. Sprayed 2 out of 3 days a week. Up to 16 times a day. http://salsa3.salsalabs.com/o/1881/p/dia/action3/common/public/?action_KEY=18098
You will NOT believe what is going on in Hawaii- and they are getting away with it. Children are being poisoned by exposure to dangerous chemicals. This animation helps explain the problem and how to get involved: http://salsa3.salsalabs.com/o/1881/p/dia/action3/common/public/?action_KEY=18098