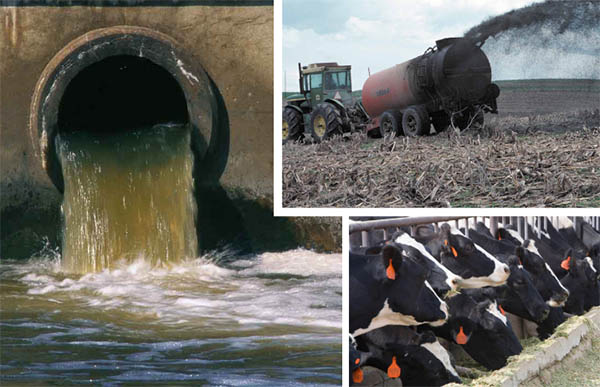 If you guessed that it's a meat-producer, you're spot on. According to a recent report Environment America, Tyson Foods released more toxic pollutants into U.S. waterways than ExxonMobil, International Paper, and BASF Corp combined between 2010 and 2014.
Related: What does a hamburger really cost?
Tyson Foods is one of the world's top producers of chicken, beef and pork. All of those chickens, cows, and pigs come with a huge environmental impact, and Tyson is not the one bearing the brunt of the costs that go with it.
In fact, in their ranking of the top 15 polluters in the U.S., six were food companies. That's 40 percent of the list: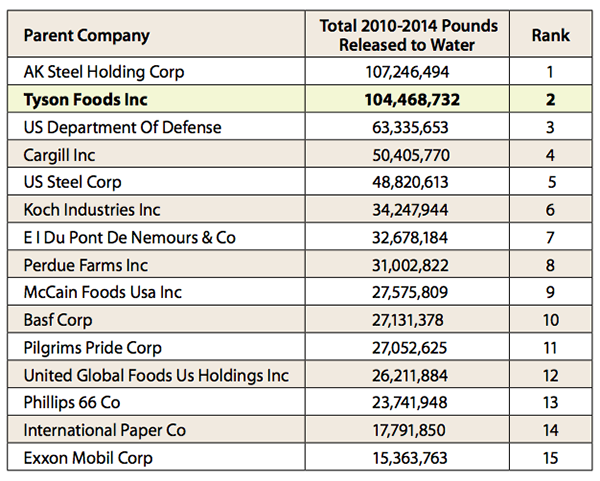 You might be surprised to see food companies ranked alongside oil and chemical companies for pollution, but in the world of industrial agriculture, pollution comes with the territory. The report explains that Tyson's massive water pollution footprint includes "manure from its contract growers' factory farm operations, fertilizer runoff from grain grown to feed the livestock it brings to market as meat, and waste from its processing plants."
Tyson's biggest contribution to water pollution is nitrates. These are the chemical compounds responsible for algal bloom, and they can also be very dangerous for young children. Pediatricians tell parents to avoid high-nitrate foods because they can cause something called blue baby syndrome. Basically, too many nitrates interfere with a child's ability to absorb oxygen. Blue baby syndrome can cause vomiting, diarrhea, trouble breathing, and even death.
Excess nitrates in our water supply are yet another cost that the meat industry passes on to all consumers, whether we eat meat or not. After these companies dump nitrates into local waterways, it's the utility companies that have to spend the extra cash to filter them out.The water company in Des Moines, Iowa spent $540,000 dealing with excess nitrates last winter. In fact, water companies had to borrow $4 million to treat nitrate-polluted water in 2014 alone.  The utilities pass that cost onto consumers in the form of higher rates.
Tyson Water Pollution Map
If you want to see a visualization of Tyson's contribution to water pollution, check out Environment America's interactive map showing how much each of Tyson's 27 facilities dumped into U.S. waterways in 2014:
The sad truth is that huge, industrial farms produce huge amounts of waste. If we truly want cleaner water, it's time to stop eating animal products or, at the very least, reduce consumption to a place where these large-scale operations are no longer needed. Right now, there is no way that small farms could produce enough meat and dairy to keep up with demand.
Images via Environment America