This guest post on growing garlic comes from our sponsors at Hartley Botanic.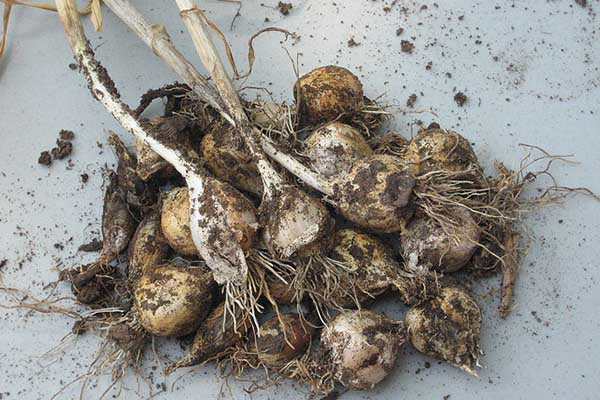 With the scorching day of summer now drawing to a close, fall is finally almost here! Have you started planting your fall garden yet? One fall crop that you may not have considered is garlic. Growing garlic is actually quite easy, and this is the perfect time of year to start!
Although growing garlic in your greenhouse might not be the first thing that springs to mind in the fall, there is no reason as to why you can't enjoy growing the vegetable under the canvas of a glass roof. In fact, thanks to credible greenhouse manufacturers such as Hartley Botanic, you can now grow your vegetables in a greenhouse that will last decades. Fresh garlic is much healthier than dried, and home-grown garlic is even healthier, since you reduce the time between harvest and plate.
Tips for Growing Garlic
So, where to start? Fall is just a few days off, and since garlic requires a long growing season, now is the perfect time to start planning your garlic takeover!
November is the ideal month to start planting your garlic, though there are some breeds that you can sow in the early and bright days of spring. Garlic, like many vegetables, enjoys a lot of sunshine, so try to place your plants in areas that will be able to bask in the warm rays of the sun.
Interestingly, however, garlic plants prefer soil that has not been manured in the preceding year. Although some gardeners will tell you to use mulch-purpose organic fertilizer, if you're looking for something that is considered a little more premium, try cutting compost instead. Not only is compost more finely sieved than multi-purpose fertilizer, but cutting compost also contains far less salt. Another good fertilizer for garlic is Growmore or fish, blood and bone which is slow to release its nutrients into the soil.
Sowing Your Garlic
Dig holes into the soil around eight inches apart that are roughly three inches deep. With the upmost delicacy, break up the garlic bulb into cloves with your and drop each individual clove into a hole; flat end down. You can either then fill the hole with soil or with organic fertilizer.
If you find that your soil is a little heavy or is easy waterlogged, make the holes a tad deeper and sprinkle an essence of grit or sand in the base to aid drainage within the holes.
You can also plant your garlic cloves in pots, only taking them out into the open air once the leaves have sprung from the plants.
Like any other vegetable that you grow, it is important to keep your garlic plants free of weeds and other harmful pests, while remembering to give them another dose of fertilizer once your transfer them.
Other than this, there will be nothing for you to do apart from water the plants if the weather is found to be dry!
When is the best time to harvest your garlic?
Once we get to mid-summer, the leaves of your bulbs will turn yellow and it is time to harvest your garlic and enjoy the fruits of your labor!
Dig them up ever so gently with a gardening fork and leave them to dry off for around a week, though if you prefer, you can cook with them immediately! This is sometimes referred to as "wet garlic" and is milder in flavor than garlic that is dried out. Wet garlic is actually much sought after by professional chefs!
Image Credit: Creative Commons photo by EvinDC