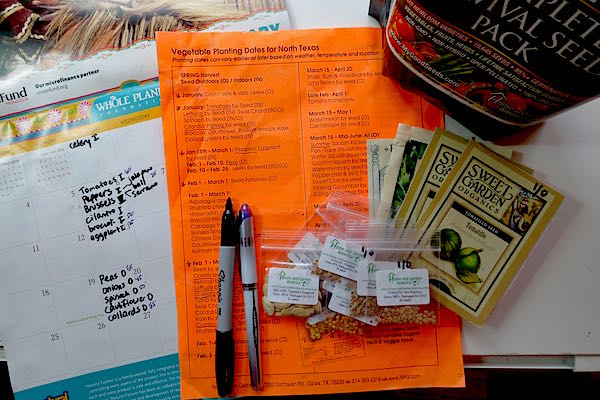 I've just cracked the champagne bottle on our 2015 urban farm. I have a crazy selection of seeds, some of which I'm starting indoors, and others I will plant outside when the soil warms to the right temperature. I've had no success starting seeds indoors in the past. I usually end up with long, leggy, wobbly stems barely able to hold up their leaves. Honestly, I can't recall ever getting food out of a plant I started indoors from seed. That's so sad.
So, I've done my homework this year and am determined to succeed! Here's what I've learned so far.
Related Posts: Getting Your 2015 Urban Farm Off the Ground,
Starting Seeds Indoors Part 2, Starting Seeds Indoors Part 3
A Brief Biology Lesson: How Seeds Germinate
Being a biology major and ridiculously curious, I decided to refresh my memory on seed germination. And it's actually quite fascinating.
Every tiny seed contains an embryo — a little plant in a resting state. When that seed encounters the right combination of moisture and temperature, it springs to life. Initially, it consumes nutrients contained within itself to fuel the growth of roots and leaves. But after it emerges from the soil and "true" leaves form, the seed — now a little seedling — switches to a new fuel source: Light! — which it photosynthesizes into chemical energy that keeps it growing.
So when you're starting seeds indoors or out, it's vitally important to provide seeds with a healthy soil environment possessing the right combination of oxygen, nutrients, and moisture to support initial germination. And it's critical to give them enough light to provide energy for later growth.
Memory refreshed.
Starting Seeds Indoors: Planning the Attack
Selecting Your Seeds
The possibilities are seriously endless. Plan to plant herbs and vegetables that are known to succeed in your area. Seek out organic, non-GMO seeds. Give some heirloom seeds a try. And most importantly, buy your seeds from a reputable source. The folks at Mother Earth News provide this list of the top 15 vegetable seed companies in their estimation. You can often find these companies' seeds in your local garden store.
You can also buy a pre-selected set of organic, heirloom herb and vegetable seeds curated and packaged by Home and Garden America. My husband gave me a set of 105 seed varieties for Valentine's Day. (Seriously — 105!) If we ever have to go into survival mode, we are set.
As I mentioned in my last post, if you're a new grower, don't go overboard. The more seeds you plant, the more you must tend. Ain't nothing wrong with letting someone else do the seed-starting work by buying transplants online or in a local garden store.
What About Last Year's Seeds?
While seeds packaged for this growing year are optimal, don't throw out seeds from past years. Those seeds may have lower germination rates and grow with less vigor, but they likely have potential. You can test their viability easily:
Place at least 10 seeds on a moistened paper towel labeled with the seed variety.
Roll up the towel and place it in a zipper-top bag.
Put the bag in a 70°-ish location, and check for germination every day.
After germination has ceased for a week, count the number of seeds that sprouted and divide that number by the total number of seeds to calculate the percent that grew. If 7 out of 10 germinated, you've got a 70% germination rate.
If the germination rate is 70 to 90 percent, you can use the seeds, but you should sow them more thickly. Using seeds with lower rates may not be worth the effort.
Making a Schedule
Find a planting guide specific to your geographic location. A simple internet search should yield one quickly. You can also usually find one at your local independent garden stores or your agricultural extension office. While you're looking, seek out a list of herb and veggie varieties that thrive where you live. (For you Dallas-area growers, you can find incredible growing advice for our area at North Haven Gardens in North Dallas.)
You'll also need to determine which seeds you need to start indoors as opposed to planting them directly in the ground outside (also called "direct sowing"). I wrote about this in a previous post and must admit figuring this out (particularly for 105 seed varieties!) confounds me. Past failures starting seeds indoors led me to believe I would direct sow everything I can this year. But curiosity has got the best of me — I've already decided to start seeds indoors of plants that can also be direct sown. I want to see which method works best.
I marked each seed packet with an "I", "O", or "I/O", depending on how they can be grown.
Once you have seeds for indoor sowing picked out, you need a schedule. I've tried online planning tools before, but here's what I'm trying this year. Yes, it's low-tech, but I'm trying to keep it simple.
I've dedicated a large 12-month calendar to my farming adventures.
I've looked up my average last and first frost dates and marked them boldly on my calendar. On March 3rd, there's a 50% chance the temperature will drop below 32°. On March 28th, that risk drops to 10%. I chose March 3rd as my date, but I'm keeping a close eye on actual conditions. (In fact, we got 5 inches of snow the first week of March!)
I checked the back of the seed packets and gardening guides for varieties I need to start indoors to find the number of weeks before the average last frost I should should've started my seeds indoors. (Oh yeah, I'm way late.)
For my spring garden, I counted backward the number of weeks from my average last frost date wrote the crop's name on that date in my calendar. (For a fall garden, I'll count backward from my average first frost date.) All of my seeds have a range of weeks before the average last frost date to consider. I used the highest number. For example, I'm supposed to start tomatoes indoors 6 to 8 weeks before my average last frost. I counted backward 8 weeks from March 3rd and wrote "tomatoes" on January 6th. That's the earliest date I was supposed to plant those seeds. (Better late than never.) I also added an "I" (for "indoors") or "O" (for "outdoors").
When a seed's date hits, I plan to move the seed packet to my seed-starting location and — ideally — plant them within a week.
A few lessons I've learned so far from my archaic method of planning:
I ended up with groupings of vegetables with the same earliest start dates and quickly ran out of room to write them down in that date's space. And then I realized I don't need to write all the veggies in the space of one date. (Duh.) I'm now thinking in terms of weeks and using the whole week's space to make notes. Perhaps I'll look for a weekly calendar…?
I also started a journal with details about what and when I'm planting. I'll make notes about what germinates and when. It will be my lessons-learned book next year.
Most importantly: I always use my favorite pens — black sharpies and purple uni-balls. Favorite pens make me smile.
With seeds and a schedule in hand, I'm almost ready to start planting. Stay tuned for my next post to read what I've learned about the best containers and soil for starting seeds indoors. And if you have advice for me, please post a comment!
Happy planning!
Related Posts: Getting Your 2015 Urban Farm Off the Ground,
Starting Seeds Indoors Part 2, Starting Seeds Indoors Part 3
Image Credit: Mary Gerush