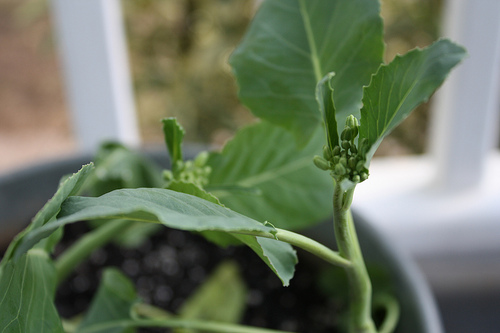 My goal this spring is to grow some food. Not a ton of food, but some. I invite all of you to join me and share your experiences!
We talk a lot about the benefits of growing your own food around here, and it's easier said than done. Food plants take maintenance and care, and when you're working with a limited amount of space, it can be even more challenging. It's easy to make excuses for why we can't grow our own food. The real trick is to just start doing it.
Confession time: I have what some folks call a "black thumb." I'm a plant killer. I love planting and photographing plants, but when it comes to actually watering them, I am a complete flake. It's led to quite a few gardening catastrophes followed by a period where I couldn't face another failed crop. It had been a couple of years since I tried growing any food plants, and my friend Mike recently inspired me to give it another whirl.
Food Garden Inspiration
Mike's whole attitude about growing food is an inspiration. His philosophy is to do what you can, and not to beat yourself up when you fail. That's easy to forget when you're tossing yet another dead tomato plant into the compost heap, and I'm grateful to him for reminding me. I encourage you guys to check out his site, Urban Organic Gardener, for lots of gardening tips and advice.
Since this is my first time back on the gardening saddle, I thought I'd issue myself a challenge and throw it out there for anyone else who's needing a little push to get planting. I'm starting out with a tiny container garden on our front porch. Here's what I've planted so far:
mint
oregano
hot green peppers
Chinese broccoli
rosemary – The rosemary was actually already out there in pots, but I'm determined to help those plants flourish!
Watering is my big weakness, so I've set a calendar reminder for Monday, Wednesday, and Friday morning so I won't forget. Since there are so few plants to tend to, I'm planning to use shower water I collect in a bucket while the water heats up. I just planted on Sunday, and I'm going to make sure to water three times a week and follow up with photos and updates as much as I can. I'd love to have you guys join me! Feel free to comment with updates about your own gardens or even email me through the site's contact page. I'd love to read and possibly even share you stories!