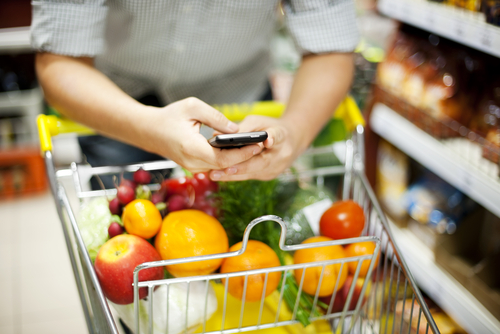 One of the most useful apps on my phone is a free grocery app called Grocery IQ. As a person who visits the grocery store often, it's very handy to have my lists all in one place on a device that I always have with me. I can add to it no matter where I am and just pull it out whenever I'm at the store.
Related: Food App Helps You Make Healthier Choices, Your Personal Nutritionist with Rise App
Getting Started
After downloading the grocery app, I made several lists for the various stores I visit – the natural grocery store, a mainstream grocery store, Target, the pet store, and even lists for stores in other cities for those times when I have access to them.
For each store, you can adjust the aisles to list in the order that you get to them. Aisles can be deleted (for example baby stuff, meat department, etc.), and the names for aisles can be changed. I altered one of the aisles to be Bulk Bins, because there wasn't a designated section for that.
Then I made a list of favorite foods that I buy with the most regularity. At the beginning of the week, I can scroll through my favorites ticking off what I need. Don't feel like scrolling through a list? Items can also be added by just typing them in or giving a voice command.
Perhaps best of all, this grocery app has a synch feature, so that you can add other phones to the same list. This means that my husband can also add to the list remotely from his phone, and when he stops by the grocery store, he knows if I've already purchased something. That way we don't end up with multiple packages of strawberries or other perishables if we both have decided to do a grocery run on the same day. When he gets something from the list or adds to it, it prompts me on my phone with a notification, so that I know it's been done.
Using the Grocery App
When we're at the grocery store together, as we each tick the boxes, it moves the items to the bottom of the list. When it's time to checkout, just hit a checkout button and it removes them from the list altogether. Anything that wasn't available just stays on the list for a future visit.
The Downside
The only downside of this grocery app is that it's attached to a coupon service. I assume that's how they make money – by advertising. Sometimes there will be a little notation next to an item, indicating that there's a coupon available for a "similar" item. For someone with my buying habits, the coupon part of it is useless. Obviously, there aren't a lot of coupons out there for farmers market tomatoes and bulk bin chickpeas. For those items that I do buy packaged, there tend to be no coupons available. Their coupons are more big corporation-focused than they are organic/vegan/natural-focused. It's easy enough to ignore that part, and for the price (free), it doesn't matter so much.
What is your favorite method for keeping an organized grocery list?
Republished with permission from Feelgood Style; shopping photo via Shuterstock