Green garlic season is short but sweet. Here's how to buy or grow it, plus some tips on how to prepare this spring gem!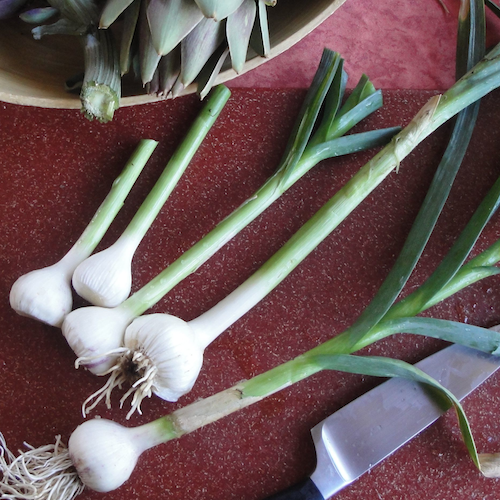 Green garlic, also called spring garlic, is a seasonal specialty. Try its delicate mild garlic flavor and you'll add it to your list of springtime favorites. Green garlic is garlic that is harvested before it fully matures and is not cured as regular garlic bulbs are. Farmers markets and CSAs have it now as part of the season's offerings, but the season is short.
Green garlic can have a partially formed bulb, or look more like a green onion. A simple way to enjoy it is sauteed to add garlicky flavor to  fresh vegetables; I love it with braised artichokes which are also in season. Use it as you would a leek, that is, trim off any parts of the stalk or bulb that are tough and not tender, then saute gently in olive oil on low heat until soft. Add fresh vegetables that have been cooked until just tender and saute a few more minutes. Try new potatoes, asparagus, or greens. Season with salt and pepper and serve, or toss with pasta. See more recipes in this NY Times post.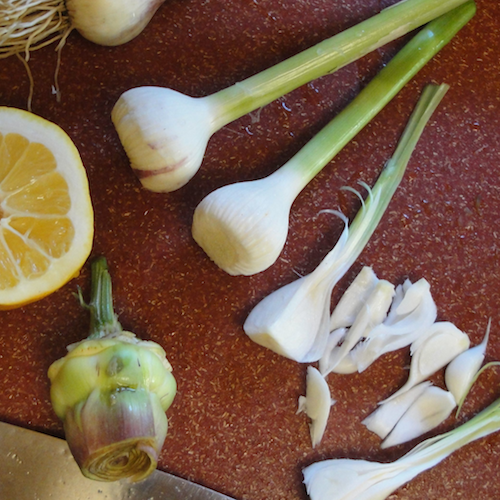 If you grow garlic in your garden you can easily harvest some of your crop April to May and early June, before it flowers. I now harvest all of my garlic early since it's easy to find good garlic bulbs any time of the year, but it's a special treat to have really fresh spring garlic.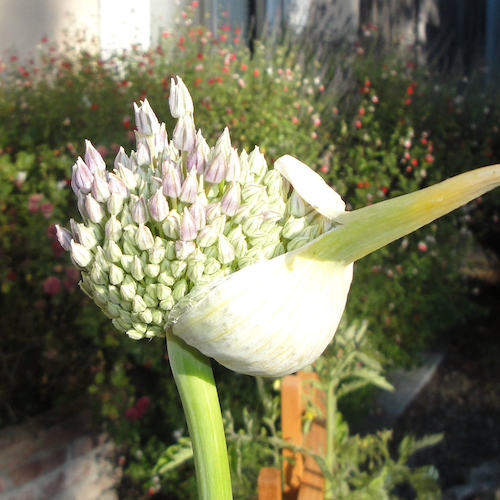 Last fall I planted huge cloves of  Elephant garlic from my farmer's market, then harvested them in April as green garlic. The super-sized bulbs grew very well and were wonderfully tender and delicious by this spring.
But I couldn't resist letting one of the plants flower (photo above).  It was just too spectacular to miss!
Photos: Patricia Larenas, UrbanArtichoke