It's one of my favorite times of the year: Green Festival season!
If you've never been to a Green Festival, I hope this is the year you can make it happen. The Green Festival is a huge expo for green living and natural products, everything from kale chips to seaweed body care products to car tires and acupuncture to wine and books– in short, everything you need to live the good, green life.
Important Media is excited to once again be a media partner for the Green Festival, and we'll have a booth at the San Francisco fest (this weekend, November 11-13) and at Portland (December 9-11). We'll be selling our Green Living Ideas book, written by our publisher Scott Cooney, and taking pre-orders for 40 Days of Green Smoothies written by our writer and site director, Becky Striepe. We'll be signing people up for the informative newsletters for all our sites, and doing a little giveaway too!
But aside from the world's best media company (that's us!), there are going to be hundreds of awesome food sponsors and vendors for attendees to enjoy.
One of the things I love most about the Green Fest is that it's a totally vegetarian/vegan event, so there are no meat products sold at any booth or any food vendor. If you have ever hated dealing with festival food as a vegan, you know this is a huge part of the appeal for any event. But this also means that you can sample and enjoy all the products available from the vendors without having to worry about animal cruelty or animal ingredients. Also, Green Festival is a totally green event, and all serveware is biocompostable.
Here are some of the food and beverage vendors I'm most excited about at Green Festival San Francisco:
+ Macaccino, a maca and cacao-based coffee alternative. So excited to try this for the first time.
+ Lulu's Chocolate: awesome, organic chocolate love (often mixed with maca!)
+ Imlak'esh Organics, whom we met at Wanderlust. So stoked for their superfood goodies!
+ EcoTeas Yerba Mate: mate is an awesome coffee and tea alternative, and these guys are doing mate right!
+ GoRaw, one of my favorite snack brands! Each time I see them at a festival they have new goodies to announce!
Some more cool things about the San Francisco Green Festival:
+ Keegan Kuhn, the Co-Director Cowspiracy will be there giving a talk too!
+ Marisa de Belloy, COO of CoolEffect, will be talking too! Learn how you can support carbon projects around the world
+ Green America, one of the leading green business advocacy organizations, will have a booth! I love hanging out with the smart folks behind Green America's business programs
Details for the San Francisco Green Festival:
What: Green Festival San Francisco, November 11-13, 2016 (see here for festival times, varies by day)
Where: Pier 35, Embarcadero (get there by bike, bus, BART, MUNI or rideshare)
WHY?! Find your new favorite green lifestyle products, come meet our team! Eat great food, connect with the green community.
Follow: 
Facebook
San Francisco Facebook Event
Instagram
YouTube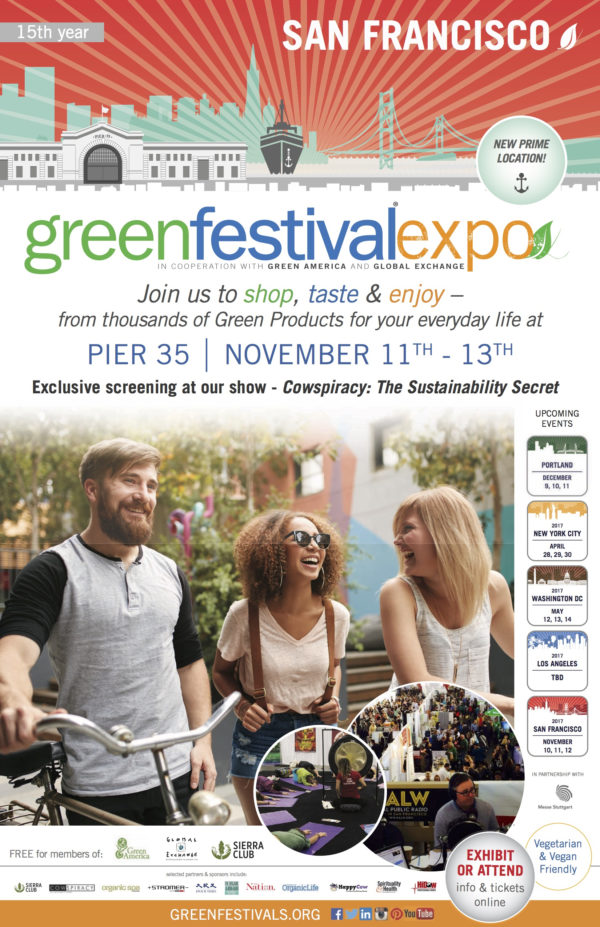 Important Media is a media partner for Green Festivals.