You guys, I'm going to Portland for the first time this week for the Portland Green Festival. How have I– a lifelong sustainability nerd and vegan foodie– never been to the vegan capital of the United States? I'm going to PDX on Thursday for a short little holiday weekend that includes the Green Festival. I've been the LA and San Francisco Green Festival, but this will be my first Portland festival. And I'm so very excited.
If you've never been to a Green Festival, I hope this is the year you can make it happen. There is FREE admission (but register here)! FREE samples! Lots of good folks to meet. The Green Festival is a huge expo for green living and natural products, everything from kale chips to seaweed body care products to car tires and acupuncture to wine and books– in short, everything you need to live the good, green life. Download your event guide here.
Important Media is excited to once again be a media partner for the Green Festival, and we'll have a booth at the Portland Green Festival this weekend, December 9-11. We'll be selling our Green Living Ideas book, written by our publisher Scott Cooney, and taking pre-orders for 40 Days of Green Smoothies written by our writer and site director, Becky Striepe. And I will be selling my brand new cookbook, Gettin' Saucy! We'll be signing people up for the informative newsletters for all our sites, and doing a little giveaway too!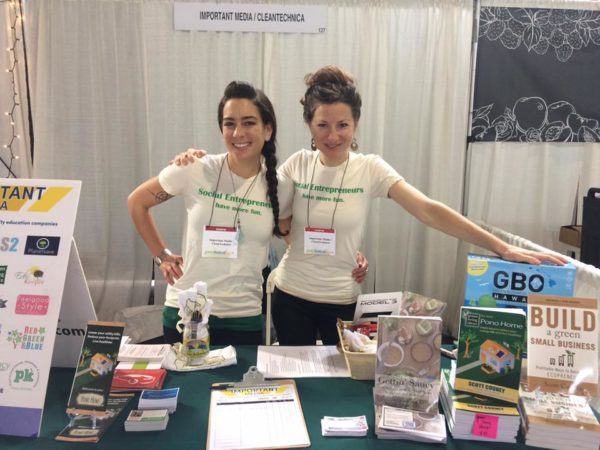 But aside from the world's best media company (that's us!), there are going to be hundreds of awesome food sponsors and vendors for attendees to enjoy.
One of the things I love most about the Green Fest is that it's a totally vegetarian/vegan event, so there are no meat products sold at any booth or any food vendor. If you have ever hated dealing with festival food as a vegan, you know this is a huge part of the appeal for any event. But this also means that you can sample and enjoy all the products available from the vendors without having to worry about animal cruelty or animal ingredients. Also, Green Festival is a totally green event, and all serveware is biocompostable, and they are offsetting their emissions with Carbon Credit Capital.
Here are some of the food and beverage vendors I'm most excited about at Green Festival San Francisco:
+ Macaccino: a maca and cacao-based coffee alternative. We met these folks at San Francisco, and they were right across the walk from us. We definitely got our maca intake during the festival. Maca is my go-to supplement for energy, which is needed at this lively event!
+ Blue Lotus Chai: awesome, organic spicy tea
+ Imlak'esh Organics: whom we met at Wanderlust. So stoked for their superfood goodies!
+ Townshends Teas Brew Dr. Kombucha: Townshend's is an AWESOME tea company based in PDX, and this is their booch brand, I can't wait to try!
+ Jems Organics: My friend just introduced me to their Cinnamon Red Maca Almond butter, and seriously, it's like a mouth orgasm. These guys are going to be my new best friends.
Details for the Portland Green Festival:
What: Portland Green Festival, December 9-11, 2016 (see here for festival times, varies by day)
Where: Oregon Convention Center, Halls B & C
WHY?! Find your new favorite green lifestyle products, come meet our team! Eat great food, connect with the green community.
Follow: 
Facebook
Portland Facebook Event
Instagram
YouTube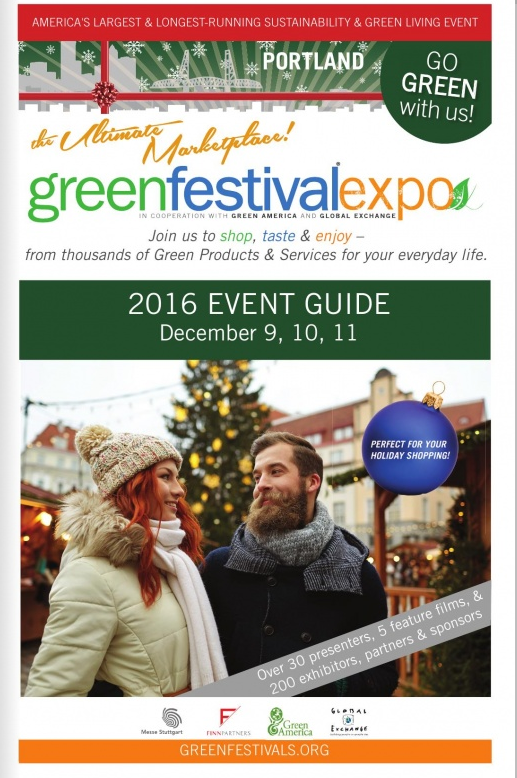 Important Media is a media partner for Green Festivals.