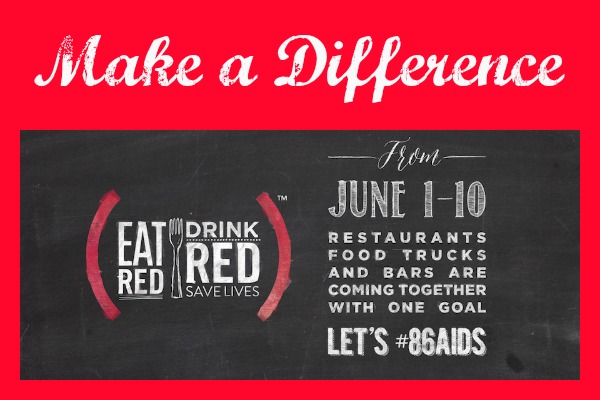 Between now and June 10th, you can help fight to end AIDS by patronizing the good restaurants, bars, and food trucks that have joined the EAT (RED), DRINK (RED), SAVE LIVES campaign.
The campaign was created by the non-profit (RED) which was founded in 2006 by U2's Bono and Bobby Shriver to involve people and organizations in the fight to end AIDS in Africa. It has raised $250 million through (RED) events and the sale of (RED) products. All proceeds have been donated to the Global Fund — an organization that secures and distributes funds globally to help fight AIDS, tuberculosis, and malaria.
The EAT (RED), DRINK (RED), SAVE LIVES campaign has engaged the culinary community to raise money for this important fight. Restaurants, bars, and food trucks who have joined are "turning (RED)" from now until June 10th. They're making a (RED)-inspired drink or cocktail or simply adding a (RED) donation line to their patrons' bills. And they've committed to make a donation to (RED) at the end of the campaign.
Good food and good drink for a good cause. Ain't nothin' wrong with that.
What You Can Do
Seek out the spots in your neighborhood that have turned (RED). Go eat, drink, and be merry. And help spread the word.
You can also help by sending a Starbucks eGift between now and June 6th. Starbucks is matching every dollar up to $200,000 with a donation to the Global Fund. The company has been a (RED) partner since 2008, donating 10 cents for each handcrafted beverage made in participating U.S. and Canada stores. To date, it has contributed more than $11 million to the Global Fund to help those living with HIV/AIDS.
Heads up: The (RED) restaurant search engine stinks. You can't search within a radius of a zip code or city — it only searches for exact matches (which is surprising given the plethora of mapping and search tools available these days). I ended up searching on the two-letter abbreviation for my state ("TX") and then scrolling through to find places near me.
Also surprisingly, there aren't many participating joints in the Dallas area. Maybe I shouldn't be surprised. I get hundreds of food-related emails and have been signed up for (RED) updates for years, yet I've only come across news of the EAT (RED), DRINK (RED), SAVE LIVES campaign once or twice. Hopefully next year I'll find out sooner so I can encourage my favorite restaurants to participate.
Oh. One More Thing.
I just learned that celebrity chefs will be manning (RED)'s Twitter handle during lunch through Friday, June 6th. You can tweet the chefs your cooking, baking, and culinary questions with @RED & #86AIDS. They'll also be giving away prizes. Here's the schedule:
Tuesday June 3, 1-2pm ET: Dominique Ansel (of cronut fame)
Wednesday June 4, 1-2pm ET: Emeril Lagasse
Thursday June 5, 1-2pm ET: Buddy Valastro — the Cake Boss
Friday June 6, 1-2pm ET: David Burke
If you eat or drink at a (RED) restaurant, bar, or food truck, please come back and tell us about it!
Image Credit: www.eatdrinkred.org