If you're thinking about donating to sustainable food groups for the holidays, FoodTank's Good Food Org Guide can help you find local food organizations that align with your ethics.



I love the weekly emails I receive from FoodTank, which are filled with information about our growing good food movement. One of the most recent emails from FoodTank announced the publication of the Good Food Org Guide, and I'm so excited to share it here with you!
FoodTank is a food-focused think tank, dedicated to sharing successes in food and farming in hopes of growing a more sustainable food future. They have a great website, host a ton of events nationwide, and do great advocacy and education work in this important field.
In partnership with the James Beard Foundation, FoodTank has created a guide that features all the nonprofit organizations from around the country that are building a better food system. The first Good Food Org Guide was released in 2014 and there was one released in 2015 too.
Earlier this month, we talked about how it can be hard to know which companies are putting sustainability above sheer profit. The same goes for nonprofits. Some nonprofits are better than others when it comes to money management and transparency. We saw last week how soda industry sponsorships, for example, can muddy a nonprofit's commitment to its mission. The Good Food Org Guide helps you navigate the world of food organizations to find the ones truly worth supporting.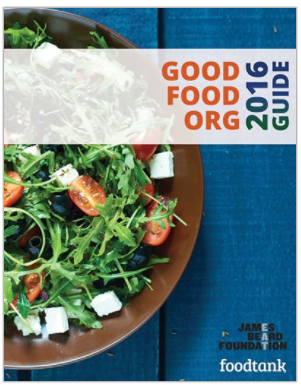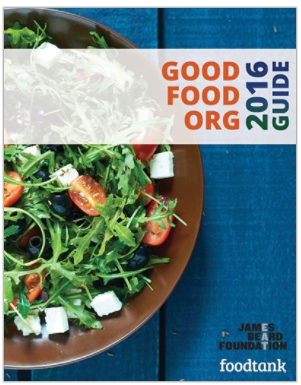 The 2016 Good Food Org Guide includes an online search tool, enabling users to search for organizations based on region and type of work, and featuring at least 10 entries for each US state.
Within the Guide, you'll find groups that are working to address the myriad of challenges we face in our broken food system:
+ childhood obesity, food security and malnourishment
+ food waste
+ consumer education
+ protection of food, farm, and restaurant workers
+ sustainable solutions focused on the health of communities around the world
Danielle Nierenberg, President of Food Tank, says in the newsletter: "Working in collaboration with the James Beard Foundation, we are proud to bring the total number of listed organizations to the 1000 mark. It is a testament to the tremendous amount of growth and support we have seen in the 'good food' sector."
You can download the guide (you just have to give your name and email address). You can search online for free though!
I used the guide to look up some of the organizations in my home states, and since I'm currently living between Hawaii and California, I've featured two of my favorite groups from each state!
Kokua Hawaii Foundation: Kokua means to care and be respectful towards, and the Kokua Hawaii Foundation is teaching kids to be more interested in foods and farming. Founded by Jack and Kim Johnson, one of the main programs is the Aina in Schools program (aina means land in Hawaiian), bringing fresh food and cooking classes to kids throughout the islands.
Hawaii SEED: One of the largest grassroots organizations fighting for GMO awareness and eradication in the islands, SEED is also the publisher of the book, Facing Hawaii's Future.
Marin Food Bank: While the Bay Area is mostly famous for tech startups and soaring housing, it's also famous for being a challenging place to live for those on the margins of the economy. The Marin FoodBank addresses the pressing need of the community, where one in four people are food insecure, and gives away almost 60% fresh fruits and vegetables to the community.
La Cocina: Based in SF, this food organization provides low-cost kitchen space for low-income women looking to build a food business.