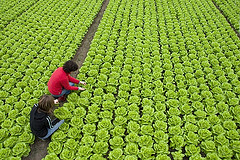 For someone who loves information, the internet can be both a wonderful temptation and and a hopeless disappointment. The good, the bad, the well-researched and the total garbage all sit side-by-side out there in cyberspace. Information on food and farming is plentiful, but not all of it is accurate, informative, or useful. One site that I have found is really worth keeping an eye on is the Organic Consumer's Association.
If you are interested in things like organic standards, genetically engineered foods, food safety, worker rights, fair trade, hunger, supporting small farms or nearly any other current food/farming issue, take a look at this web site. The Organic Consumer's Association was started in 1998 in response to efforts by the USDA and agribusiness to water down organic food standards. The OCA deals with a multitude of topics related to healthy and sustainable farming, food, corporate accountability, and other related areas. Site features include a news feed, a newsletter, action campaigns, tons of informative articles, plus sections on everything from children's health to climate change.
This site isn't for everyone. I think they do a good job gathering information on topics important to me, but if their goals aren't in line with yours, you may feel differently. I've learned to always look at the section of a web site on "about us" or "who we are." The Organic Consumer's Association says about themselves that they are focused on promoting the views and interests of the nation's organic and socially responsible consumers. They list a six-point political program, the Organic Agenda 2005-15:
The conversion of American agriculture to at least 30% organic by the year 2015, including major reforms in agricultural subsidies and appropriations to help family farmers make the transition to organic, develop local and regional markets, and adopt renewable energy practices.
Fair Trade and economic justice, not so-called corporate-driven "Free Trade" as the global norm.
A global moratorium on genetically engineered foods and crops.
A phase-out of the most dangerous industrial agriculture and factory farming practices.
Universal health care with an emphasis on prevention, nutrition, and wellness promotion.
Energy independence and the conversion of US and global agriculture, transportation, and utilities to conservation practices and renewable energy.
If this is in line with your beliefs, or if you just want to learn more about these issues, I recommend this web site. Its a great place to go for information, inspiration, and news about efforts to make our food and farming system safe, fair, sustainable and good for the planet and people. Amen to that!