The Grocery Manufacturer's Association (GMA) was found guilty of covering up donations that funded their efforts to block GMO labeling laws in 2013.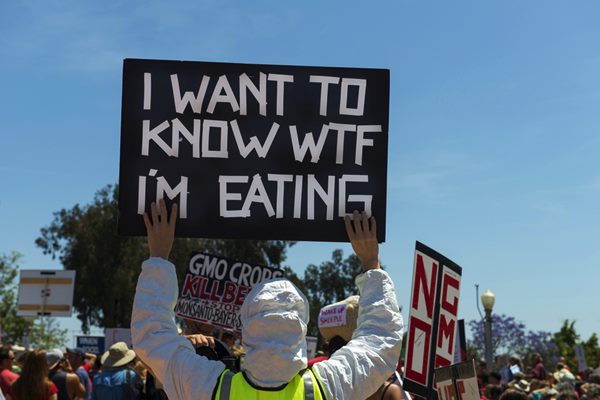 The GMA doesn't have many friends in good food. It's a trade organization that represents the biggest food brands, and it was the largest single donor to the political committee against a 2013 GMO labeling initiative. In a GMA GMO labeling lawsuit should that surprise no one, the GMA was found guilty of covertly funneling money into an anti-labeling campaign.
The 2013 campaign in question was against Initiative 522, a Washington state bill that which sought to require labeling of genetically engineered foods. At the time of voting, we previously reported that even though similar initiatives for labeling were lost, "I-522 looks posed to turn that assumption on its head, with 66% of voters polled in that state saying they will definitely or probably vote in favor of mandatory GMO labeling this November."
The GMA raised $14 million from the companies it represents and used most of those funds to fight GMO labeling in Washington state. The group hid the companies making the donations by lumping them all under an account they called "Defense of Brands."
Of the $14 million donated to the fight against Initiative 522, the GMA spent about $11 million in Washington state. Because the money went through their Defense of Brands account, the funds were listed as coming from the GMA, rather than from the individual donors.
This decision to hide the true funding sources– which is written in meeting minutes from the GMA Board's Finance and Audit Committee– was specifically chosen to "provide anonymity and eliminate state filing requirements for contributing members," and, "shield individual companies from public disclosure and possible criticism."
That turned out to be a bad move – one that's backfiring on them now. Judge Hirsch said that this decision "violated the spirit and letter of Washington's Public Campaign Finance Laws." However, EcoWatch reports that because it is unclear whether the GMA's misreading of this law was intentional or not, the penalty has not yet been decided.
The top 10 contributors to GMA's Defense of Brands account, put in place to fight labeling:
1. PepsiCo: $2.696 million
2. Nestle USA, Inc.: $1.751 million
3. The Coca-Cola Company: $1.742 million
4. General Mills: $996,000
5. ConAgra: $949,000
6. Campbell Soup: $441,000
7. The Hershey Company: $413,000
8. J.M. Smucker: $401,000
9. Kellogg: $369,000
10. Land O'Lakes: $332,000
See how your favorite companies spent their money to block GMO labeling initiatives in Colorado and Oregon.
As reported on Nation of Change, Attorney General Bob Ferguson said about the case: "This landmark case has been a long fight for accountability [and] this ruling sends an unequivocal message: Big money donors cannot evade Washington law and hide from public scrutiny."
Consumer Pressure Drives GMO Labeling
The GMA funnelling money into anti-labeling campaigns has certainly slowed down progress in the GMO labeling arena, but they can't silence consumer voices. Small and mainstream companies are dumping GMOs in response to consumer pressure.
In an awesome turn of events, Campbell's soup recently made headlines for announcing that they are now in favor of GMO labeling, and will be distancing themselves from the GMA and other groups that fight against the consumer's right to know.
And last year, Hershey's also said they would drop GMOs from many of their products too.
Even though these producers were on the wrong side of this GMO fight, it seems that consumer pressure is encouraging them to make a stand for consumers' right to know and food transparency.
All this adds up to more good news for good food: a trend that I see moving forward with more momentum than ever before.
Image credit: GMO protest photo via Shutterstock.