Food producers across the United States are planning to ditch biotech seeds, as yearly hikes in GM seed prices put them out of reach for many farmers.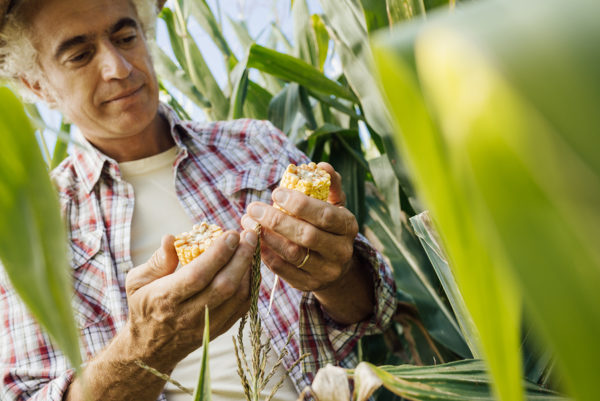 As reported in the Wall Street Journal, corn, soy, and cotton farmers are planning on switching to non-GM seeds in coming seasons due to various factors. And this means big changes for the farmers and seed companies.
How big of a shift is it? WSJ reports that, "The U.S. Department of Agriculture estimates this year that 94% of soybean acres were planted with biotech varieties, and 92% of corn acres."
A Steady Rise in GM Seed Prices
When GM seeds were released onto the market 20 years ago, the promise of these seeds included increased yields and decreased need for chemical pesticides and herbicides. But as farmers are now learning, these seeds are failing to live up to these promises.
WSJ explains that the opposite has actually occurred: "spending on crop seeds has nearly quadrupled since 1996, when Monsanto [first launched] biotech varieties" while at the same time crop prices for these commodity crops have been dropping for the past three years. WSJ interviews a Joe Logan, a soybean farmer in Ohio. Logan explains that he paid $85 per bag of seeds, which is about five times what he paid two decades ago. Logan says, "The price we are paying for biotech seed now, we're not able to capture the returns."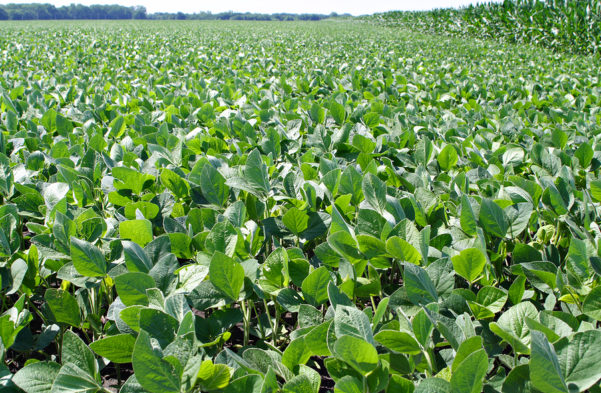 This is just a part of the story of declines in farming income: WSJ reports that analysts at Sanford C. Bernstein & Co. are saying that "the crop boom is over" as we see another record corn harvest this year, for the second year in a row. The bust is huge: "prices for the two main U.S. agricultural crops have plummeted. U.S. farmers this year will collectively earn $9.2 billion less than they did in 2015, and 42% less than they did in 2013, according to the USDA."
Seed Prices Rise as Big Ag Consolidates
This news comes in tandem with the report that Bayer has just merged with Monsanto in a the largest corporate merger of the year, at about $56 billion dollars. Vox reports that this is the third big agri-business merger this year: ChemChina-Syngenta and DuPont-Dow Chemical also merged to form multibillion-dollar companies that control increasingly larger shares of our food system and have an increased ability to lobby governments.
Related: Economic Argument Against GMOs
These charts from Mother Jones show just how much power these newer, combined companies control: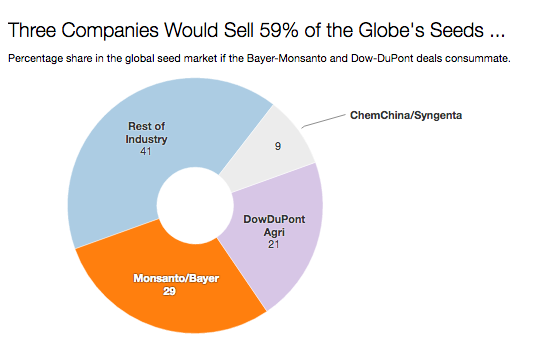 ---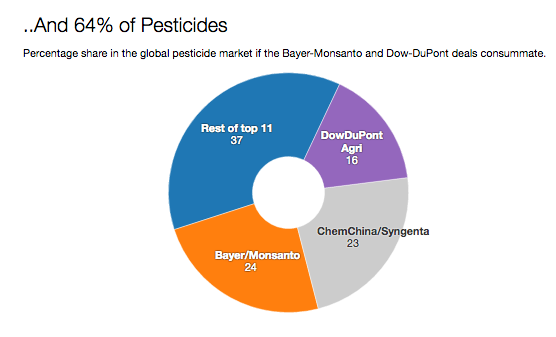 This consolidation is troublesome for anyone that cares about food. Vox reports, "Back in 1994, the world's four biggest seed companies controlled just 21 percent of the market. [But today] the top four seed companies and top four agrochemical firms command more than half their respective markets." As crop prices have fallen, the companies are merging to hopefully reduce costs while keeping profits high for their shareholders.
It's unclear exactly how these deals will play out in the coming years, but to me it seems certain that we need to work even harder to support local farms, small producers, and local food systems. Work with your local and state governments to support a stronger, more resilient food system, and choose to buy smaller brands to vote with your dollar for a better food system for all.
Farmer with corn image and field image from BigStock