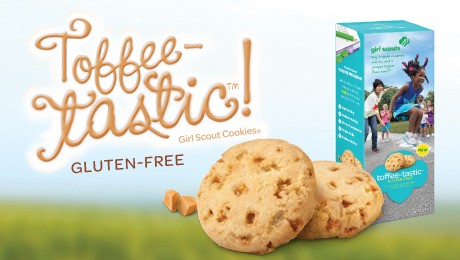 Last week I wrote about the new gluten-free Girl Scout cookie, the Toffee-tastic. Initial orders are in and it looks like demand has exceeded supply. 
When the Girl Scouts announced the introduction of gluten-free cookie pilot program this year, they told us all (at cookie sales training) they were not sure how much demand there would be. They also sweetly warned that if demand exceeded supply they might have to adjust how many cases of Toffee-tastics each troop could get.
"Everyone's enthusiasm for selling this cookie is very exciting."
Orders are in and, according to an email from the Girl Scouts this morning, the requests for Toffee-tastics exceeded available inventory for this year's gluten-free pilot program. Accordingly, the Girls Scouts will be making adjustments to larger orders to ensure every troop has the opportunity to get at least the two cases promised during training.
If you want to try the gluten free Girl Scout cookie Toffee-tastics this year, I suggest grabbing them when you see them.  Let the games begin.