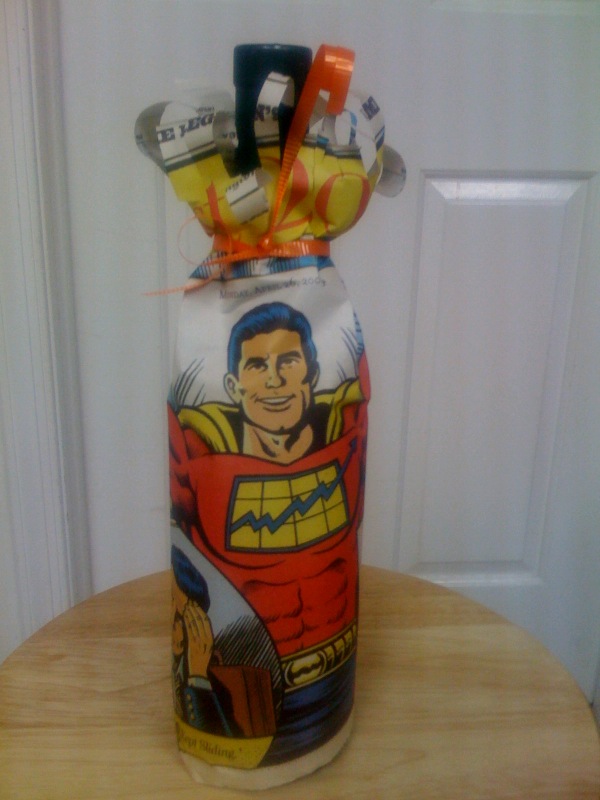 Is giving wine your go-to hostess gift? Are you going to toast a little bubbly on New Year's Eve? Perhaps you are skilled at the art of making homemade wine?
While you are searching for the perfect bottle to share, here are some ideas to consider for the gift wrap.
Giving Wine: 4 Ways to Wrap that Bottle
1. Wrap a bottle of wine and champagne into something fun and festive by wrapping them in funnies (which will also work well for eco box wine) or any scrap paper for that matter.
2. Make a wine bottle sleeve. This is for that sweater that you can't donate because of the holes in it or the fact it shrunk in the wash. Simply snip off a sleeve and tie with a ribbon. If it is cold outside, this will keep the reds at a good temperature as you travel to the party.
3. Fabric gift bags make extra special gifts themselves. These adorable presents are "easy to make and encourage the recipient to reuse the wrapping, instead of tossing it in the trash."
4. Attach a little pouch of mulling spices to the gift. Mulling spices include orange peel, allspice, cinnamon, anise, and cloves. For this recipe red wine is brewed with the spices for a special holiday hot tottie.
What are your favorite holiday wines? Any more neat ideas for giving them as gifts?
Above image of wine for a holiday party taken by yours truly.