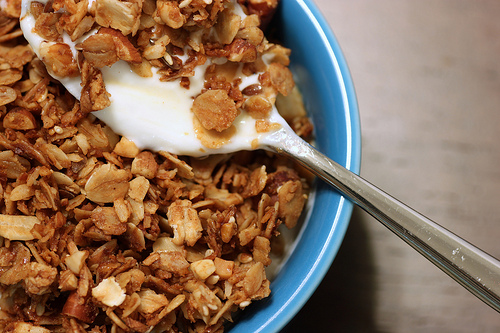 Last month I posted a recipe for peanut butter banana granola.
Here's a zippy ginger-molasses version for those of you who like a bit of spice in the morning.
[social_buttons]
6 cups of old-fashioned rolled oats (not quick-cooking or instant)
1 cup of walnut halves and pieces
1 cup of slivered almonds
1 cup of shredded coconut
1 teaspoon of ground cinnamon
Dash of salt
1/2 cup of honey (or maple syrup)
1/2 cup of molasses
2-3 tablespoons of fresh ginger juice or store-bought ginger juice (such as Ginger People)
1/2 cup of chopped crystallized ginger
Heat the oven to 325 degrees. In a large bowl, combine the oats, nuts, coconut, cinnamon, and salt. Set aside. Combine the honey, molasses, and ginger juice in a smaller bowl and blend well using a fork. Add the honey mixture to the oat mixture and stir to combine, using a large spoon or your hands.
Spread the mixture evenly on a rimmed baking sheet. Bake for 30 minutes, stirring every 10 minutes.
Remove the pan from the oven, stir the granola, and set on a rack to cool. Add the crystallized ginger pieces. Stir the granola once in a while it comes to room temperature. Don't judge the taste of the granola while it's hot – the flavor develops as the granola cools (it tastes best the next day). Transfer to a sealed container and store in the refrigerator for up to one month.
Makes 8-9 cups.
Image courtesy of little blue hen via a Creative Commons license.