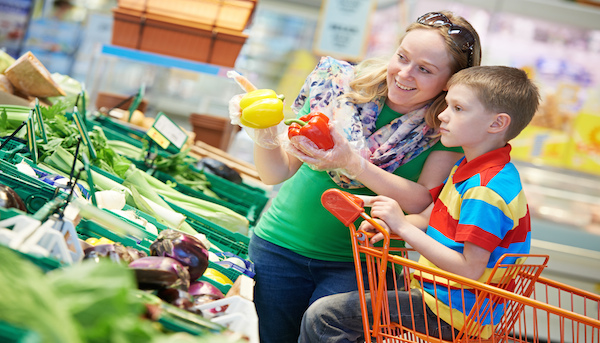 We're in a whatever-it-takes crisis mode when it comes to getting kids to eat more fruits and vegetables. But is a processed food approach the best way to solve this crisis?
Would you believe that on average, most Americans still aren't eating enough servings of fruits and veggies on a daily basis? And as any parent knows, getting a child to eat more fruits and vegetables can feel like an impossible task.
Now, supermarkets are stepping in with their own solution: snacking sections for kids, reports NPR, "Giant Eagle is in the process of installing the go-to kid sections in about 200 stores in the mid-Atlantic and Ohio. And Walmart is piloting the concept in 30 stores in California, with plans to roll it out to 1,500 stores later this fall."
The markets are partnering with Bolthouse Farms, which put a huge marketing effort behind its baby carrots campaign a few years ago. "The company has been developing products such as pureed fruit tubes that kids can suck and slurp, all-fruit smoothies and bags of baby carrots called Veggie Snackers that come with pouches of bright-colored, bold-flavored seasonings," reports NPR.
Seasoned carrots reportedly take on similar characteristics to Doritos, says Jeff Dunn, CEO of Bolthouse, "They give you that crunch and flavor," he told NPR. "You're going to lick your fingers, and get that same sensory [experience] you get with salty snacks."
But isn't that a big problem in getting kids to eat more fruits and vegetables if we're making them taste more like unhealthy corn chips?
While the Bolthouse program is earning praise for making fruits and vegetables desirable, we have to wonder if this is setting the stage for disaster as kids turn into teenagers who can make their own purchasing decisions and may opt instead of carrots that kind of taste like Doritos to Doritos that don't taste at all like carrots.
It seems that we do need is not another gimmick to getting more fruits and vegetables into our children whether they know it or not—we need strategies for developing healthy relationships with healthy foods that aren't Doritos flavored or squeezed into tubes.
Maybe those supermarkets, instead of stocking their kids section with processed fruits and veggies, could create kid-friendly kitchen and garden areas to help children learn the benefits of shopping for and growing their own healthy food and how to prepare it deliciously.
Shopping family image via Shutterstock