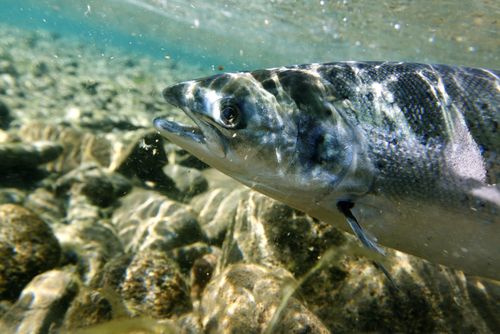 Genetically modified salmon could be on store shelves sooner than expected. While the FDA hasn't approved the GM salmon, they have ruled that the fish is not unsafe and poses no environmental risks.
However, AquaBounty, the company that developed the genetically modified salmon waiting for FDA approval, will run out of money in January 2013. This despite the fact that the U.S. government has given close to $2 million in grants to AquaBounty.  The company's largest shareholders have agreed to sell their 48% interest to Intrexon Corporation at a 49% premium to the stock's closing price on October 31 of this year. Intrexon will then offer the same premium to other shareholders until the company owns more than 50% of AquaBounty.
Intrexon is a privately held biotech corporation based in Blacksburg, Virginia. The board of directors includes a former CEO of Monsanto and a former CEO of Pfizer. The senior vice president at Intrexon is Thomas Kasser, also formerly at Monsanto, who helped Monsanto get rBGH approved by the FDA.
With the experience and connections of the top brass at Intrexon, the GM salmon will likely be approved for market soon.
Problems with the GM fish remain. The AquAdvantage salmon has been shown to be more allergenic than wild salmon and to produce 40% more IGF-1 (insulin-like growth hormone), which has been linked to cancer in humans.  In addition to possible health effects in humans, is the potential for environmental damage by escaped GM salmon.
Without required labeling for genetically modified foods, no one will know whether they're eating heart-healthy wild-caught salmon or the fish with the extra dose of cancer-causing IGF-1.
There is legislation in Congress that would require labeling of genetically engineered foods, but time is running out. Call your representative and ask them to support the Genetically Engineered Food Right to Know Act (H.R. 3553).
Atlantic salmon photo via Shutterstock