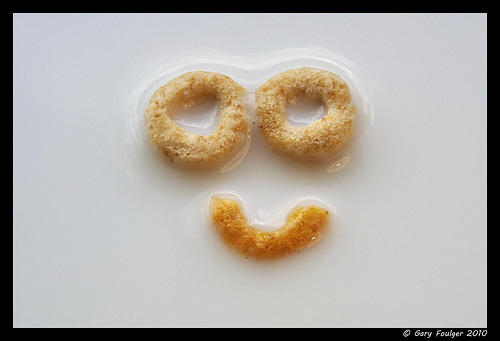 Just yesterday we lauded Sara Lee for cutting the HFCS out of their breads, and today brings more good food news! Thanks to a successful campaign from the Rainforest Action Network, General Mills has committed to revamping its palm oil policy.
Palm oil production is a major culprit in rainforest destruction. According to RAN:

General Mills uses palm oil from plantations that destroy huge tracts of rainforests in Indonesia, Malaysia and Papua New Guinea. Palm oil is a common ingredient in General Mills brands and products, from Betty Crocker and Pillsbury to Nature Valley Granola Bars and Yogurt Burst Cheerios.

In the last five years, demand for palm oil by U.S. companies like General Mills has tripled, resulting in the clearing and burning of rainforests for palm oil plantations. This has put Indigenous and forest-dependent people in jeopardy, as well as endangered species like orangutans, Sumatran tigers and elephants.
They're asking folks to take a moment to thank CEO Ken Powell for committing to sustainable palm oil and urge him to follow through on that commitment.
It's a great day for the rainforests! Don't you just love good news in the morning?
Image Credit: Creative Commons photo by cheesyfeet