Fifth and sixth graders at Pacific Elementary prepare lunch for the whole school using food they grew in the school's garden classroom. And they do it every day.
The kids prepare lunch for 120 students and staff, and the kids who cooked also serve the food, sit-down restaurant style. The kids and staff all eat together. The kids are learning about nutrition, about eating seasonally, and about community. All over delicious, healthy lunches. Check out what the kids have to say about what they're learning in Pacific Elementary's FoodLab. It's so inspiring!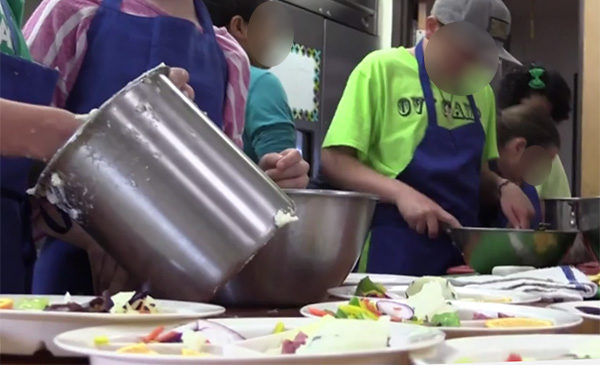 Pacific School's garden classroom concept is part of their Life Lab Science Program, launched in 1998. Life Lab opened its first garden classroom in 2001, and they now offer resources that other schools can use in their own school gardens.
Pacific Elementary brings the food they grow – and the kids who grew it – into the kitchen. There, the kids learn to work together and the value of food. The cooking and teamwork skills they're acquiring are ones that I think we often overlook in our academic-focused U.S. curriculums. There's no standardized test to measure what they're learning in the Food Lab, but there's no denying the value of these lessons.
On the Pacific School's website, they explain, "The full cycle of composting, planting, and harvesting — and then cooking their harvest in the food lab — helps the students to understand where their food comes from and how it nourishes their bodies. By becoming deeply involved in the growing and cooking of their own food, the children learn to be more invested in what they eat."
More on Kids Growing Food:
+ Growing Green Garlic with Kids
+ Why Farming Should Be on Your Kid's Class Schedule
+ 7 Ways to Get Your Kids Eating Healthy Food
A big thank you to former Important Media editor Rhonda Winter for sending me the video above!