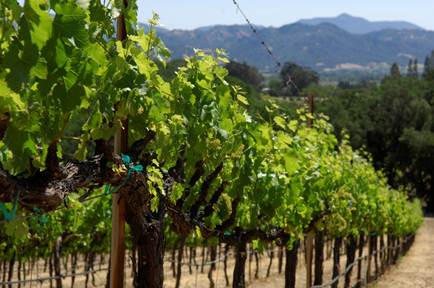 The Francis Ford Coppola Winery is more than a winery or "winery park" as the folks at Coppola like to call it. Located in Alexander Valley, California, the 24-acre property features two restaurants, a full bar, a wine tasting room, two swimming pools, a movie gallery, a performing arts Pavilion and a park area with game tables and bocce courts. According to Coppola himself, the winery is meant to be "a wine wonderland, a park of pleasure where people of all ages can enjoy all the best things in life – food, wine, music, dancing, games, swimming and performances of all types. A place to celebrate the love of life."
But not just a place for fun, the winery is also squarely committed to sustainability. Along with everything else, visitors to the Winery Park will "discover a place dedicated to responsible, harmonious stewardship of the land."
In accordance with the guidelines of the California Sustainable Winegrowing Alliance, all grapes used in the production of Francis Ford Coppola wines are sustainably farmed.
The list of sustainability practices is indeed impressive:
Grape and water waste is recycled. The winery fertilizes with composted grape pomace and irrigates with reclaimed winery wastewater in a great example of a closed loop waste system;
The use of cover crops to prevent soil erosion and the use of owls as natural pest management
Two hives of honeybees to promote biodiversity at the winery and help combat the Colony Collapse Disorder of the honeybee population that threatens bees and the crops they pollinate around the world;
 The winery is actively involved in the Fish Friendly Farming certification program;
Francis Coppola Diamond Collection wines are packaged in 100% recycled cardboard case boxes, and all of the corks come from sustainable cork forests; they also require that label and foil vendors "have environmentally friendly practices;"
And laudably, their commitment extends to their property management and real estate practices; when renovating the winery they stayed local, hiring local crews, vendors, and sub-contractors; they reused the wood from the Redwood trees that were removed from property to build the main reception desk and outdoor dining tables; and the pyramid skylights in their towers feature an environmentally friendly material called Kalwall that reduces the need for artificial lighting which in turn helps conserve energy.
And, new this year, the winery installed two electric car charging stations. This is apparently part of a local trend: along with these two stations, several other wineries in the immediate vicinity have also begun to cater to the electric car crowd, installing their own charging stations: Jarvis Winery, Cade Winery, Benziger, Hall, Clif Family Winery and Inman Family Winery – just to name a few.
All in all, the folks at Coppola seem to be walking their walk. And just as importantly they make responsible stewardship of the plant fun for all. I, for one, cannot wait to visit.