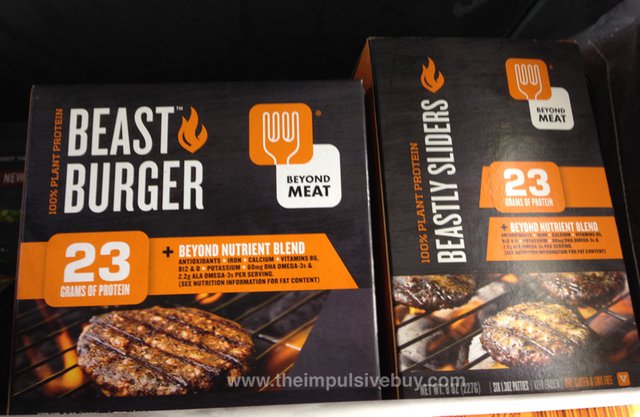 Vegan meat startup Beyond Meat has an unexpected new executive on its board of directors—former McDonald's CEO Don Thompson.
Thompson served as McDonald's CEO for nearly 25 years—yes, that McDonald's—stepping down just last spring, although he reportedly still consults with the fast food chain.
Beyond Meat is a southern California-based startup that says its goal is to produce a "better meat" one that's entirely plant-based and gentler on both animals and the planet.
"Meat is actually pretty simple," Beyond Meat explains on its website, "amino acids, fats, carbohydrates, trace minerals and water combined to give us that familiar chew, resistance, and variation. But what if we are able to take these same inputs from plants and combine them to look and feel just like animal meat? What you'd have is meat for the future. Meat from plants."
The company sells beef and chicken-like products made from ingredients including pea protein, flax seeds, and a blend of spices and seasoning. Pea protein is a relative newcomer in the mock meat arena. It's also one of the main ingredients in Just Mayo, the flagship product from Hampton Creek foods, another California startup aimed at replacing eggs from common foods including mayonnaise and baking mixes.
"We look forward to working with Don to bring our plant-based meats to consumers here in the United States and abroad," Beyond Meat founder and CEO Ethan Brown said in a statement.
"Today's customers want great taste, choice and variety in the foods they eat," said Thompson. "More and more, every day, the traditional favorites of beef, fowl and fish are being augmented with additional plant protein sources to satisfy this new taste demand. Ethan and the team at Beyond Meat have proven that you can actually have great taste and high quality with plant based proteins – even in a burger!"
While vegan startups like Beyond Meat are booming (former New York Times columnist Mark Bittman also just joined a vegan startup), animal-based and fast food industries are on a steady decline.
A recent survey of McDonald's franchise owners revealed growing concerns about the company's stability and questioned the future of the business, despite the chain's efforts to reinvent itself. McDonald's is among a growing number of fast food brands committing to using cage-free eggs and decreasing or eliminating the use of antibiotics in livestock production. The chain also recently launched an organic burger in its German locations.
But with a growing number of Americans increasingly concerned about their health and their impact on the environment, vegan and vegetarian options are more popular than ever. Not helping the struggling fast food industry is the World Health Organization's recent warning that consumption of red and processed meats can increase the risk of developing certain types of cancer.
Also joining the Beyond Meat board of directors as the Executive Chairman of the board is Seth Goldman, co-founder and CEO of Honest Tea, the top-selling brand of organic and low-sugar bottled iced teas. Honest Tea sold to Coca-Cola in 2011.
Image: theimpulsivebuy