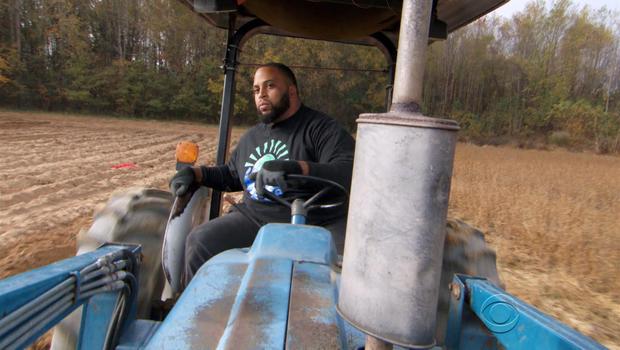 What's hotter than a starting career in the NFL with a multi-million dollar contract? Leaving it to take on growing vegetables. On a farm.
That's exactly what Jason Brown, former center for the St. Louis Rams, has done.
"My agent told me, 'You're making the biggest mistake of your life,'" Brown told CBS. "And I looked right back at him and I said, 'No I'm not. No I'm not.'"
After taking some crash courses on growing vegetables and farming on Youtube, Brown got to work on his 1,000 acres of Louisburg, N.C. land and just recently had his first harvest: sweet potatoes. "When you see them pop up out of the ground, man, it's the most beautiful thing you could ever see," Brown said.
Our country needs farmers far more than it needs NFL players. That is, if we want to munch on chips and dip and drink beer during the game. Despite the hipster movement towards urban farming in cities like Detroit, Brooklyn and Oakland, most of the nation's farmers are aging. According to the Huffington Post, the latest agricultural census figures show "the fastest growing group of farmers and ranchers are those over age 65." So, Brown couldn't be making the move into farming at a better or more important time.
But what's most inspiring about Brown's decision to opt out of a respected NFL career and into farming is his underlying motive, which is to donate the first fruits of every harvest to food pantries. The farm's name is "First Fruit Farms" for that very reason. Not too many farmers grow crops with the intention of giving them away entirely, but then again, not all farmers are former NFL players with millions of dollars in the bank. "[W]hen I think about a life of greatness," Brown told CBS, "I think about a life of service." Brown may be the first to do it, but hopefully he's not the last.
Image via CBS