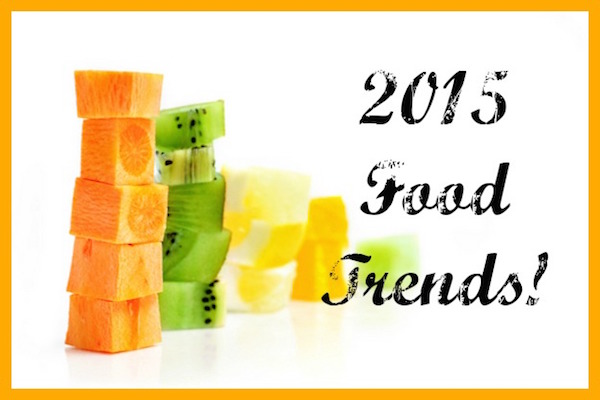 Sick of sriracha? Crapped out on kale? Wondering what we'll be eating in the food world of 2015? Here's a taste of this year's top food trends.
"Real" Food Will Be On the Menu
The National Restaurant Association surveyed more than 1,300 chefs to see what will be on their menus in 2015. Good news: Locally sourced meat and seafood, locally grown vegetables, and environmental sustainability are the top three food trends for the year. Also in the top 10: Healthful kids' meals, natural ingredients and minimally processed foods, hyperlocal sourcing (for example, restaurant gardens), and sustainable seafood. More good news: Food waste reduction and management made it into the top 10 as well. It wasn't there last year.
Oysters, Oysters, Oysters
International food and restaurant consulting firm Baum + Whiteman reports that oysters are thriving as bays, inlets, and tidal basins are being detoxed and farmers are reseeding old oyster beds as well as discovering new ones. So oysters are plentiful — and that means cheap! According to the report: "Chesapeake Bay's harvest grew eightfold between 2006 and 2012; in Connecticut the harvest about doubled between 2007 and 2010 and is still growing." Mama mia! I love me some oysters!
Beets are So Yesterday
Restaurant consulting firm AF&Co cites a trend away from beets as the "cool" vegetable. Today it's cauliflower. Tomorrow it will be the not-so-lowly-anymore radish. (They're so easy to grow at home!) We'll also be seeing new hybrid vegetables. Kale + Brussels sprouts = Kalettes — cute little heads of green goodness. Broccoli + cauliflower = broccoflower — a slightly sweeter version of cauliflower with a Kermit the Frog hue. You'll also see a lot of ugly root vegetables on your restaurant plates. Celery root, parsnips, and kohlrabi have become "cheffy ingredients," according to Baum + Whiteman.
We'll also continue to see ugly fruits and vegetables flying off the shelves at reduced prices, which is great news given our food waste dilemma.
Savory Yogurts
We've written about Blue Hill at Stone Barns' vegetable flavored yogurts in the past, but I still can't find it in my stores. And I can't wait. Dan Barber and his brother David have released yogurts imbued with vegetal flavors, like butternut squash, beet, carrot, and tomato. (Mouth. Watering. Now.) Tomato and kimchee yogurt have been spotted at Murray's Cheese in New York City. When in Rome, seek out artisanal gelati made with gorgonzola cheese or mortadella and pistachio. Or perhaps anchovies and smoked salmon. The possibilities are apparently endless.
A New Kind of Pork
Goodbye pork belly and bacon. Hello 'ndjua — a spreadable Calabrian pork sausage now making appearances on tables everywhere. It's made of meat from the head (minus the cheeks, which are used for guanciale), trimmings from various meat cuts, some clean skin, fatback, and roasted hot red peppers, giving it a fiery kick. Look for it on your next charcuterie board.
Really Authentic Asian
Sterling-Rice Group's 10 Cutting-Edge Culinary Trends for 2015 report tells us to be prepared for more complex, regional Asian food this year. "This spicier and funkier fare appeals to the 'advanced' Asian food lover and goes beyond the sweet, the tame, and the friendly." You'll have the opportunity to discover new flavors from Japan, Thailand, Korea, Vietnam, and the Phillipines. And Japanese matcha, a super-nutritional powdered green tea, will become a popular addition to foods and beverages.
Tastes of the Year: Sour and Bitter
Consulting firm Technomics says: "Bitter is the new bold." We'll see darker chocolates, more bitter coffees. AF&Co says that sour is the new umami. Pickles, fermented foods, vinegars, mustards — foods that make your mouth water — will be big. (Loving it!)
Bugs for Breakfast?
From Baum + Whiteman: "The conversation about eating bugs is just beginning but it won't go away." Billions of people eat them. They're a great source of protein. And insect protein bars are already on the market. Would you eat food made from creepy, crawly things?
Want to learn more?
I'm looking forward to a year of eating nutritious, delicious food. (Except for maybe the insect part.) How about you?
Image Credit: Fruit via Shutterstock