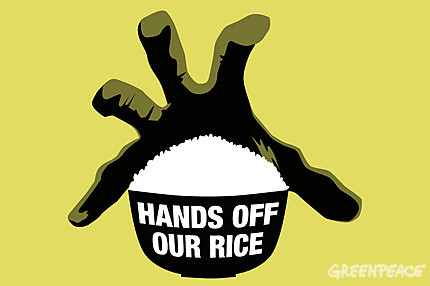 The chemical giant Bayer — the same Bayer which brought you aspirin, heroin and mustard gas, and currently manufactures a wide variety of pesticides, herbicides, polyurethanes and other questionable chemicals — has wrapped their toxic fingers around our rice.
This is nothing new. The company's glufosinate-resistant LL62 genetically modified rice isn't commercially grown, but that doesn't mean that it hasn't already entered the global food supply.
In 2006, Bayer's genetically modified LL601 rice was found in food shipments of rice exported from the United States. Even more shocking is the fact that in 2006, the rice wasn't even approved for human consumption.  Experimental field trials of Bayer's GM rice had contaminated conventional rice crops, exposing the world to engineered rice and resulting in a rash of lawsuits against Bayer from angry farmers in Japan to Russia and beyond.  In the end, the scandal cost the global rice industry 1.2 billion US dollars.
But even so, Bayer has everything to gain and nothing to lose by pushing glufosinate-resistant LL62.  After all, they produce the glufosinate herbicide as well as the modified rice. In 2007 alone, annual glufosinate sales totaled $247 million. Money talks, and Bayer remains indifferent to the herbicide's "severe effects on reproduction toxicity" and "acute risk for toddlers."
[youtube=http://www.youtube.com/v/dsxFZ0rUCoM&hl=en&fs=1]
The United States has already approved the commercial cultivation of the LL62 rice, and is actively using glufosinate on rice, soybean, corn and sugar beet crops throughout the country.
Having won the United States' approval, Bayer seeks to widen their grip on the global rice market. Ironically, despite the EU's recent ban on glufosinate and proof that toxic glufosinate residues remain on the harvested grain even after cooking, the EU still hasn't decided whether or not they will ban Bayer's LL62 rice.
There is no question that allowing GM rice to be cultivated worldwide poses a real threat to the global food supply, and the irreversible toxic effects of glufosinate are undeniable.  Yet around the world, Bayer is demanding approval to commercially grow their LL62 rice.
To take a stand against genetically modified rice and preserve our world's food security, tell governments to keep Bayer's rice out of our food supply. For more information, view the the Greenpeace petition — 200,000 signatures are needed by May 31.  Add your voice.
—
Image via Greenpeace International's Hands off Our Rice campaign.