Sarah Dwyer, owner of Chouquette Artisan Chocolates and Confections, created her top-selling Maple Bacon Caramels based on a childhood memory, involving lazy weekends sleeping in, her mother in the kitchen making her favorite breakfast treat, and her family around the kitchen table.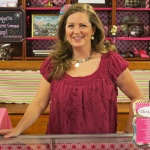 Dwyer's favorite childhood breakfast was chocolate chip pancakes with a side of bacon. She remembers lying in bed, waking up to the smell of slightly burnt chocolate chips, smoky bacon and sweet maple syrup circulating throughout the air, traveling up to her bedroom. Dwyer, along with her brother and sister, would slowly make their way downstairs to the kitchen, to sit around the breakfast table, exchange stories and plan the day ahead. She learned about the art of putting the sweet maple syrup on the slightly salty, smoky bacon from her sister. It was here, during her childhood breakfasts, that Dwyer learned about 'the perfect bite:' a little bit of chocolate chip pancake and a tiny piece of smoky bacon, covered with the sweet maple syrup.
Now, when Dwyer makes her Maple Bacon Caramels in the kitchen, and smells the candied bacon and the decadent chocolate, she is taken back to this fond memory of childhood. She strives for her customers to enjoy 'the perfect bite' of which she is so fond.
Breakfast photo: Shutterstock