The Food Date Labeling Act, a bill aimed to reduce food waste by standardizing expiration date labels, went to the House yesterday.
The bill is co-sponsored by Sen. Richard Blumenthal and Rep.Chellie Pingree and is the sister act to Pingree's Food Recovery Act. The Food Recovery Act aims at reducing waste at the institutional level, like on farms, in schools, and at the grocery store. The Food Date Labeling Act is consumer-facing.
As we've talked about before, the sell by date on food has a huge impact on food waste. A UK report estimated that more accurate sell by dates could reduce food waste by 50 million pounds of food per year. Here in the U.S., there's no uniformity when it comes to the dates on food packaging. A quick look through my pantry and fridge turned up:
best by
sell by
best if used by
expires on
Each one has a date, and each one might mean something slightly different. Hummus that's "best by May 19" might not actually expire for another four to six days, for example. Thrillist has a great graphic showing the difference between expiration dates and when food actually begins to spoil.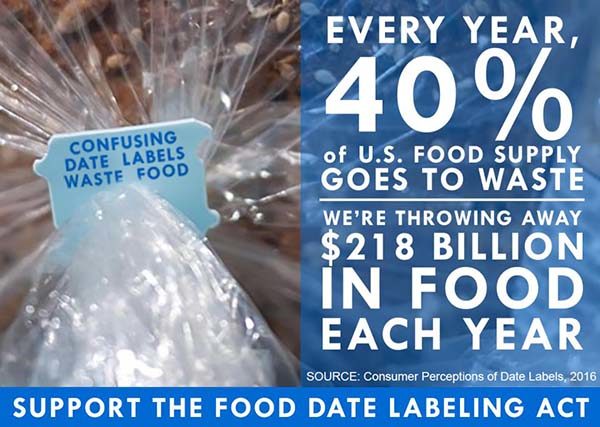 Blumenthal's and Pingree's Food Date Labeling Act aims to close this gap by making food labeling more uniform. Under the act, food labels will be more clear about whether food tastes freshest by a certain date or is actually unsafe to eat. The language they chosed is based on a study conducted by Harvard Law School's Food Law and Policy Clinic.
The bill would also remove "sell by" dates from packaging. Sell By dates are meant for stores, not for consumers, and are related to freshness rather than spoilage. Food is usually good long past the sell by date on the label.
This bill is kind of a no-brainer. It will help massively reduce food waste and save money for consumers. And it's got support from advocacy groups. American Academy of Nutrition and Dietetics, Feeding America, Food Policy Action, Food Recovery Network, Harvard Food Law and Policy Clinic, National Consumer League, End Senior Hunger, and the World Wildlife Fund all support this law. What's more, there is support from within the food industry. Campbell Soup Company and Nestlé USA have both stated support for the bill.
In a press release about the bill, Blumenthal said, "By establishing a uniform national date labeling system, this commonsense legislation will provide consumers with clarity that will help them save money on their grocery bills and prevent perfectly safe food from going to waste."
Campbell Soup's Chief Food Law Counsel, Steve Armstrong, added that, "it would make it easier for companies to donate products to organizations such as food banks, which could help cut down on food waste while helping those in need."