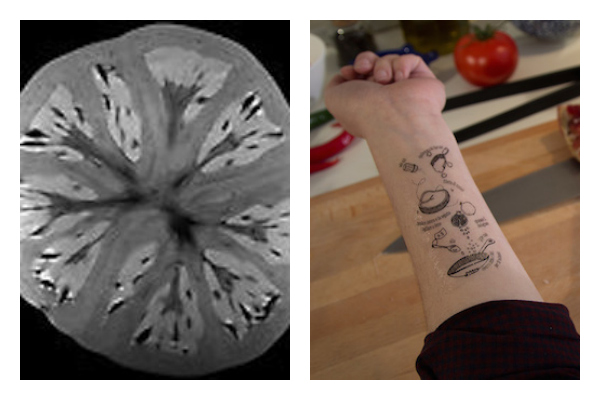 Making art is creative. So is making food. When combined, it can be quite magical. So I hope you'll enjoy discovering five of my favorite food art finds.
Produce as Seen Through through the Eyes of a Medical Machine
Food is art. Just look at these incredible images of fruits and vegetables as captured with a Magnetic Resonance Imaging (MRI) scanner. Andy Nelson works at Boston University Medical School's Center for Biomedical Imaging, and he's gained a bit of popularity for the creative way he has captured images of what we eat through his Philips 3 Tesla MRI. Check out a wide array of fruit and veggie food art (including animated scans) on his blog Inside Insides. (p.s. artichoke, tomato, pineapple.)

Image Credit: Inside Insides 
Food Art = Body Art with these Temporary Tattoos
If you've thought about getting a tattoo but not yet had the courage to permanently mark yourself, check out Tattly — a company that revolutionized temporary tattoos. Designed by professional artists and made of non-toxic vegetable-based ink, these 5-day tattoos are fun and beautiful. And there is a large selection of food-related ink, including vegetables, kitchen utensils, and popsicles.
Image Credit: Tattly
Yet More Culinary-Themed Temporary Ink
Tired of splashing tomato sauce on your cookbooks or iPad? What if your recipe were conveniently available — perhaps attached to your body? Two Italian designers decided that was a good idea, and they created I Tradizionali — temporary tattoos of traditional Italian recipes perfectly sized for your forearm. You can't buy them yet; the duo just wrapped up their first pre-order for their crowdfunding campaign and are looking for ways to distribute their creations more widely. (I'll be on the lookout.)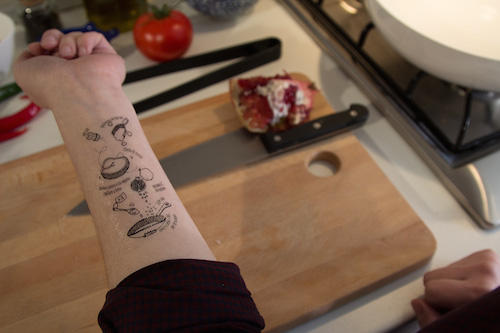 Image Credit: I Tradizionali
More Illustrated Recipes
A brother and sister design team created They Draw and Cook after being inspired on a family vacation to start illustrating recipes. Now artists of all types from all over the world submit clever, whimsical illustrations of a wide variety of recipes, like Veggie Pot Pie and Gluten-Free Faux Pasta. You can search the recipes by meal type, ingredient, or illustration style and even "Dial-a-Dinner" for a random set of appetizer, main dish, and dessert recipes.
Image Credit: They Draw and Cook
My Fave: A Former Attorney Turns Food Artiste
I happened across Drywell Art quite accidentally and immediately fell in love with Alyson Thomas's food art. She hand draws and watercolors illustrations of meat, booze, and kitchen tools. And you can buy them in the form of prints, t-shirts, and tea towels. Really awesome stuff.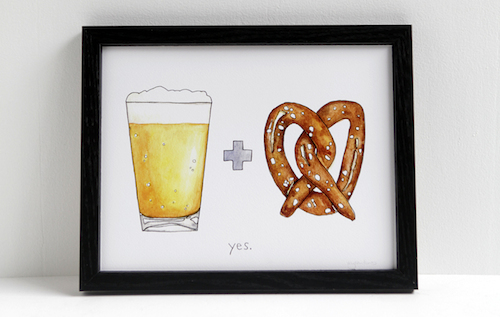 Image Credit: Drywell Art
Got other examples of places where food meets art? Pass it on!