Avoiding unhealthy food additives can feel overwhelming, especially when you're already standing in the grocery store. Here are some common food additives to avoid, plus tips on how to make grocery shopping easier.
You know that there are harmful food additives to avoid in packaged foods, but actually choosing healthier snack food can be hard. Have you ever tried to read a product's ingredients list while your toddler is standing up in the back of the grocery cart telling you, tearfully, over and over that he NEEDS these chips, because they're "the ones in the lellow bag?" Just me?
Even without a spirited child in tow, finding clean snacks can be tough, especially if you don't have time to make things like chips from scratch. The good news is that there are some ways to make things easier on yourself. Here's how.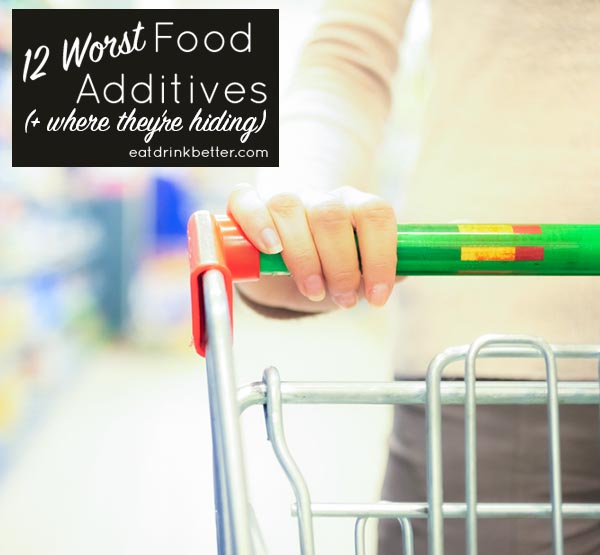 Know which food additives to avoid (& which are fine).
When you're reading an ingredients list, knowing what to look for can be a big help. Back in 2014, the Environmental Working Group (EWG) put out a list of 12 food additives to avoid, and the list is still incredibly helpful.
Here's the quick-and-dirty list, if you just want to know what are some of the most important food additives to avoid:
Nitrates and Nitrites
Potassium Bromate
Propyl Paraben
Butylated Hydroxyanisole (BHA)
Butylated Hydroxytoluene (BHT)
Propyl Gallate
Theobromine
Natural and Artificial Flavors
Artificial Colors
Diacetyl
Phosphates
Aluminum
Check out our breakdown of the list and where those ingredients tend to hide.
There are also some food additives that sound scary, but are really not a big deal. Here are six common ingredients that might send up a red flag, but are pretty benign:
gellan gum
guar gum
xanthan gum
lethicin (aka soy lecithin)
dextrose
ascorbyl palmitate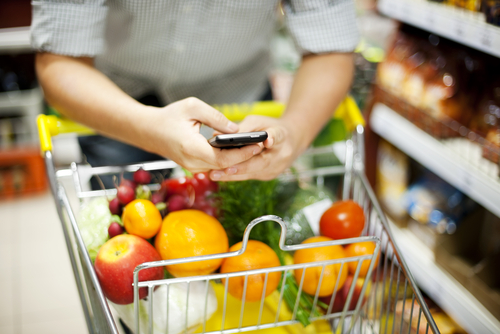 Arm yourself with the right tools.
The EWG has also created a healthy living app for Apple and Android. Download it to your phone, and you can use it to search their massive database. No more agonizing over ingredients lists at the store. Just whip out your phone, search, and you're all set.
Find brands you trust.
Instead of trying to make a snap decision at the store, knowing which brands you trust to deliver healthy snacks makes a big difference. Do a little bit of research before you hit the store, and you'll be in good shape. Finding brands you like is a pretty personal decision, since ingredients and taste both come into play.
Shop online.
Shopping for snacks online saves stress and cash. You can check ingredients at your leisure, and sometimes you can make a bulk purchase for a discounted price.
My new favorite snack, SuperEats Protein Puffs, are available online. They're totally vegan, and my kid and I are obsessed with the Truffle & Rosemary and Chipotle BBQ flavors. The puffs are vegan, gluten free, and non-GMO.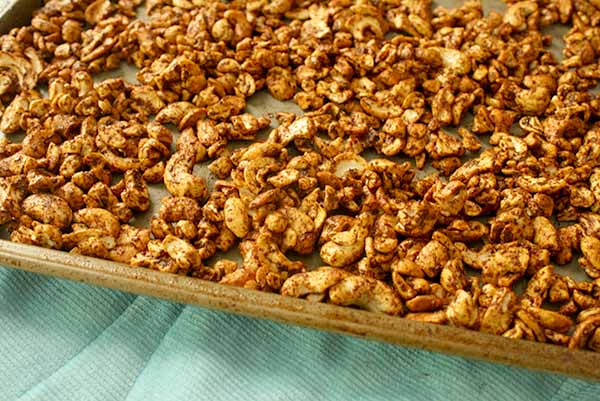 Choose whole foods.
Of course, choosing healthy, whole food snacks is an easy way to avoid food additives. I shared some of my favorite snacks for kids recently, and below are the snacks that I personally reach for when I need something to tide me over until supper:
tangerines
apple slices with cashew butter
sliced avocado with lemon juice
carrots or celery dipped into hummus or homemade pesto
a handful of dry roasted cashews, almonds, or peanuts
What are your favorite tools and go-tos when you're trying to stock the pantry with healthy snacks?
The post was sponsored by SuperEats. All opinions are 100% my own.