Orlando-based Fleet Farming is increasing local food production, one front lawn at a time.
Gardener Chris Castro isn't your typical suburban landscaper. Perfectly manicured fescue isn't his ideal lawn situation. Instead, he sees lawns as potential, mini urban farms. In his spare time, he helps Orlando-area homeowners transform their own lawns into food-producing landscapes.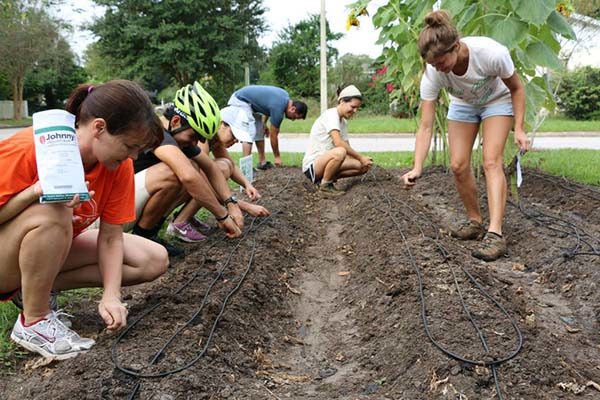 The volunteer-run program is called Fleet Farming. Not only do volunteers help transform lawns into urban farms, but they use bikes to transport the produce to local farmers markets within a mile of the harvest locations. Homeowners (or renters with owner's consent) get to share in the local fruits, veggies, and flowers that Fleet Farming produces on their lawn.
Castro co-founded Fleet Farming with Heather Grove, Community Director of Orlando's East End Market. The pair got excited about the "farmlette" idea after East End Market owner John Rife pitched it at a local "think and do tank" meeting.
Launched in 2014, Fleet Farming has received several grants to help support its mission. Even without the grant money, the startup recooped its startup costs – about $7000 – in the first year. This project is proof that the farmlette model can be effective, especially somewhere like central Florida, where you can grow such an abundance of food outside year-round.
If the idea of turning a perfectly good lawn into an urban farm seems farfetched, Fleet Farming participant Gary Henderson might be the one to sway you. He told NPR that, "once you get to the point where you realize that you can eat your lawn, I think it makes a whole lot of sense."
If you're in the Orlando area and want to turn your lawn into a farmlette, Fleet Farming now has a waitlist that you can sign up for. At this rate, they're aiming for 200 farmlettes across the Orlando area in the next four years.
Of course, you don't have to have volunteers to turn your lawn into a garden. Read more about how to start a front yard community garden. Our sister site, Sustainablog, has an interesting piece on what exactly defines an urban farm in the first place. And, of course, Food Not Lawns by H.C. Flores is a great book to help you kickstart your lawn-to-garden transformation.
One word of caution: not all communities are open to the idea of front yard gardens. There have been cases of homeowners getting fined for growing food instead of grass. A Georgia man incurred $5000 fines for his front yard garden, and an Oak Park, Michigan family faced fines and possible jailtime for growing food. In Florida's Miami Shores Village, another family was threatened with fines for growing food. Hopefully, the more people understand the benefits of growing food instead of grass, the fewer cases like this we will see.
Images via Fleet Farming