As the days and nights grow colder I find myself wanting to snuggle under the blankets with a good book and a cozy drink. In my opinion, nothing makes the chilly nights  cozier than steamy, cold-weather drinks you made yourself. Here are five warm and inviting drinks to warm your bones during chilly weather.

1. Eggnog
Eggnog is synonymous with the holidays and winter beverages. Skip the store bought carton and try Alton Brown's recipe for eggnog. His recipe includes brandy, for a more adult treat, but without will be just as tasty. Alternatively, Elana's Pantry gives us a vegan recipe for "egg" nog that will enable everyone to enjoy.


2. Hot Chocolate
This is the drink that I crave the most. When the snow is falling, I pop in a movie and sip my way into spring. This hot chocolate recipe on the Joy of Baking is decadent and rich. There is even a recipe for homemade whipped cream to make the experience even better! To make a mexican hot chocolate, add a pinch of cayenne and cinnamon for sweetness with a kick. Also, to make this vegan-friendly use any dairy alternative (coconut milk would be divine!) and use vegan chocolates.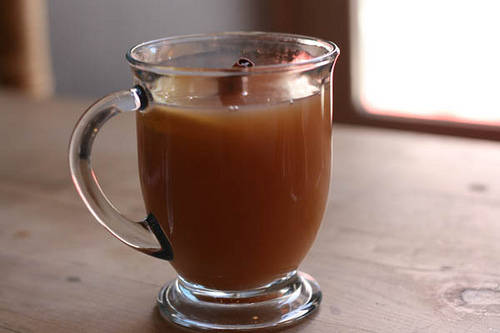 3. Hot Apple Cider
Pick up a carton of a local orchard's finest cider and add some homemade mulling spices to elevate the cider to delicious heights. Mulling spices that are already packaged can be kind of expensive and it's more fun to create your own blends for one-of-a-kind flavors. Love To Know has a ton of recipes for different spice combinations, including ones using ginger and star anise!

4. Hot Toddies
A hot toddy is such a warming drink from both the brandy and the hot water. Gather around the fireplace with your closest friends and serve this after a winter walk. Epicurious gives us a great recipe for a simple and tasty hot toddy that will keep your chills at bay.

5. Warm Milk Punch
Indian spices, darjeeling tea, and warm milk come together to make this inviting and homey drink. Cardamom and fennel are just two of the spices used to create a drink that will surely become a holiday favorite. This could easily be made vegan by using your favorite milk alternative.
What are some of your favorite cold weather beverages? Are there any that you have to have each year? I would love to hear your ideas and get some recipes!
Image Credits: a song under the sugar sugar, elana's pantry, Endless Simmer, cherrypatter, esimpraim, and .michael.newman.