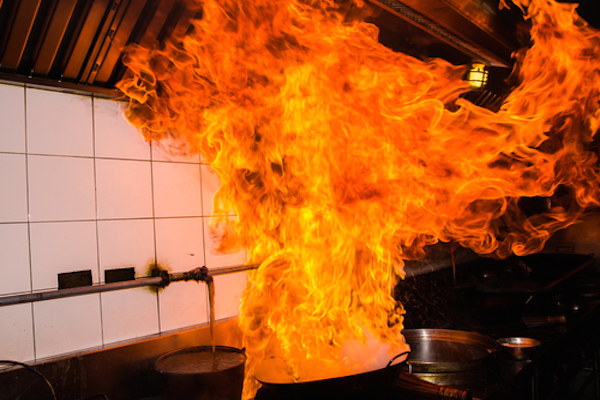 Cooking is the leading cause of home fires and associated injuries according to the National Fire Protection Association (NFPA). U.S. fire departments respond to an average of 416 cooking fires every day, but on Thanksgiving, there are 3 times that many home fires caused by cooking. Apparently, Thanksgiving is quite the dangerous day to cook.
I've lived through a home fire (not cooking-related). Fortunately, no people or pets were injured and we suffered mostly smoke damage. We got "lucky," but we still had to live in a hotel for 2-1/2 months, and we lost a lot. Believe me, you don't want to experience the aftermath of a home fire. So during this holiday season, beef up your kitchen safety knowledge with a few helpful tips.
1. Keep Your Stovetop Safe
Ranges and stovetops are involved in 3 of every 5 reported cooking fires. Most importantly, don't leave the kitchen when you've got something simmering on the stove. You think you won't forget you've turned on that burner, but I've boiled away a pot of water several times (I'm embarrassed to say). I've learned to set a timer whenever I put something on the stove no matter how convinced I am that I won't forget about it.
Additionally, turn pot handles away from you when those burners are on. Move flammable items, like pot-holders and kitchen towels, away from your cooking area. Watch out for scarves and sleeves that can brush over burners and catch fire. And keep your kids at least 3 feet away from the stove.
2. Show Your Oven Some Lovin'
Failure to clean is a contributing factor to fire ignition in 17% of home fires involving ovens or rotisseries, so keep that oven clean. And stay home when you've got the big bird or your roasted fall veggies in the oven. Check on the food regularly. I usually set timers every 30 minutes or so to remind me. And when you broil, don't walk away! (My husband is now on high alert when I broil.)
3. Childproof Your Thanksgiving
Household injuries are one of the top reasons kids under age 3 visit the emergency room. So this holiday season, keep them away from hot foods and liquids which can cause serious burns. Keep knives, matches, and lighters out of their reach. And make sure electric cords aren't dangling off the counter within easy reach of curious hands. Arrange activities, like puzzles, games, or movie-watching, to keep them out of the kitchen as you cook.
Additionally, don't leave small children alone in a room with a lit candle.
4. Steer Clear of Turkey Fryers
Fried turkey is delicious, but dangerous. The NFPA says not to use outdoor gas-fueled fryers that involve immersing your turkey in hot oil. If you do intend to use one, check out the NFPA's turkey fryer safety tips before firing it up. Or check out an oil-free turkey fryer. Crazy, right?
5. Expect the Best, but Plan for the Worst
Make sure your smoke detectors are in good working order. The NFPA recommends testing them monthly, replacing batteries annually, and replacing them every 10 years. Have a fire extinguisher in the kitchen and know how to use it. And keep a first aid kit close to the kitchen just in case.
What other tips do you have to keep your Thanksgiving safe? Let us know, and enjoy a happy, healthy, blessed holiday season!