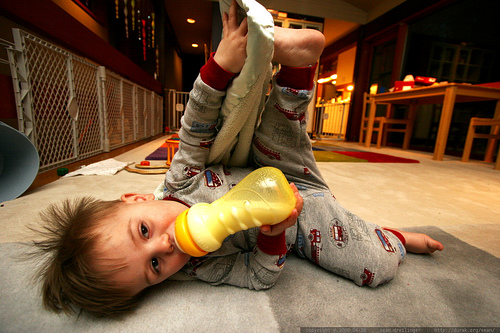 After a long struggle between government, industry, and consumer advocacy groups, FDA announced today that it would ban controversial BPA from children's sippy cups and baby bottles.
BPA has been banned in the EU for some time, but here in the U.S. the endocrine disruptor is still allowed in all sorts of products like plastic food containers and cans. The BPA ban only applies to children's products here in the U.S., and it's receiving mixed reactions from advocacy groups. NRDC says:
This is only a baby step in the fight to eradicate BPA.  To truly protect the public, FDA needs to ban BPA from all food packaging. This half-hearted action—taken only after consumers shifted away from BPA in children's products — is inadequate. FDA continues to dodge the bigger questions of BPA's safety.
Other groups are applauding the decision. Jean Halloran, Director of Food Policy Initiatives for Consumers Union said:
This is a big day for everyone who has worked so hard to get BPA out of our sippy cups and baby bottles, especially the families who have lobbied the government to do the right thing for our kids. Scientific studies show there are serious health risks associated with BPA, and this action by the FDA will help protect millions of the most vulnerable Americans.  FDA's next step should be to ban this chemical in infant formula containers.  Babies' exposure to BPA should be minimized in every way possible.
BPA is a known endocrine disruptor and has been linked to other health problems such as intestinal inflammation and breast cancer.
Whether you're jazzed about the ban or feel that it doesn't go far enough, this is at the very least a step in the right direction for children's health here in the U.S. What do you think about the FDA BPA ban?