by Dan Bolton, editor of Tea Journey
Smallholders on plots of ten acres or less produce the majority of the world's tea and coffee. In some countries where traditional practices date back centuries, tea cultivation is so well established that growers consult the scrolls of their ancestors to adjust their processing methods to accommodate changing weather patterns.
In the 35 lands where 4 million metric tons of tea is grown each year the terroir and terraces have merged to become a farmscape, harmonious with nature and providing a livelihood to the more than 200 million worldwide who depend on tea as a crop. These farmscapes are enlarging even as the individual farms shrink.
This is because properties are divided and subdivided and divided again with each new generation. In countries like Kenya and Sri Lanka, smallholders now account for 70% of production. China alone has 80 million tea growers. In India, where tea is grown on large-scale estates, workers holding permanent jobs number more than 1 million, a number that doubles with seasonal laborers.
Quality and the quality of life vary greatly across the tea lands. This is because unlike coffee growers, the tea industry has yet to establish the kind of specialty standards that have transformed life for many small coffee farmers.
Antonio Rigno de Oliveira farms a small plot of land in Piatã, in Bahia, Brazil. His son-in-law, Vladimir, and wife, Zora, farm the adjoining land. Antonio and Zora are in their 60s. All three growers rely on the same local workers to prune their trees, weed and fertilize their soil and gather the harvest from their combined 70 acres. They have been farming for generations, nurturing the trees, watchful of pests and disease, each year producing a hand-crafted crop that sells well locally due to their reputation.
Last October, the coffee industry shined a 10,000-watt spotlight on Antonio, naming his pulped natural the best in Brazil (the largest coffee producing country in the world). Immediately after he accepted the top prize at the "Cup of Excellence" ceremony in Pocos de Caldas, I asked what led to his win.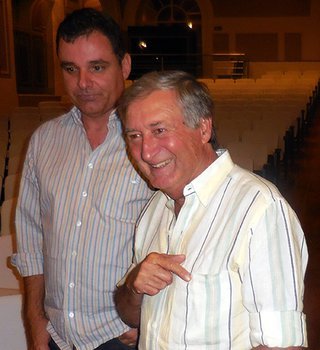 Oliveria, an older man with the rough hands and weathered face of a coffee farmer, looked at me directly in the eye and pointed his index and middle fingers at his own eyes. He is saying that he keeps a "close eye" on the trees, the interpreter explained. Oliveria told me that he had 18 sacks to sell, about 1,080 kilos from the 2015 harvest.
Three months later, those lots of coffee were auctioned online for BRL $198,920 ($50,000), a new record and far more than the BRL $54,000 the coffee would have brought at a local sale.
The non-profit Alliance for Coffee Excellence has hosted more than 100 of these competitions and manages several auctions that have earned hundreds of thousands of dollars for growers who receive 83% of the sale price. Top coffees sell for $30 to $50 a pound, sums that in a single season have radically changed the lives of growers for the better.
The tea industry will benefits from a greater focus on growers. Instead of reviewing brands, as is the practice with most bloggers, there should be a resource that evaluates the global harvest much as the wine industry evaluates vintages by vintner and region.
Tea Journey, a new consumer magazine for premium tea drinkers, is an attempt to change the consumer discussion from "which is the best tin?" to "what is the best terroir?" and from "what is the best brand?" to "which are the best gardens?"
Tea Journey's website and mobile APPs bring to the West in-depth tea knowledge sourced in the tea lands. The magazine educates consumers on what quality teas look like dry and in the cup. The tea knowledge they gain takes them behind the counter so that they can confidently select the teas that will become their favorites.
The magazine is a collaborative effort of tea journalists and experts in the West and their counterparts in the tea lands. Tea Journey reporters live in 12 countries and speak 18 languages from Mongolian to Portuguese. Much of their work is being translated into English for the very first time.
Tea Journey contracts with publishers like the Chinese tea magazine Cha Dao Life that write about tea at a very high level. Instead of direct translation, Tea Journey's editors and experts "re-tell" in nuanced English what we learn from these native-language publications.
If funded, the multi-media magazine will publish three 150-page sections annually downloadable as PDFs. In between issues (April-August-November), feature-length articles will be posted every 10 days to the Tea Journey blog.
The deadline to finance the Kickstarter* is June 1. The Origin issue will bring readers to the tea grass gardens surrounding Higashiyama in the shadow of Mt. Fuji; to a 32-hour vigil in Wuyi as Yan Cha (rock tea) grower Yihua Luo keeps a watchful eye over the new harvest roast; and to Nepal where Susma Bastola writes in first-person how a Nepali woman and tea farmer manages her time in the tea garden "to bring out quality shoots irrespective of her busy family schedule".
Click here to see the prototype.
During a five-year incubation writers and photographers, museum curators, scientists, tea retailers and tea masters, all fluent in their local tongues and eager to share their knowledge developed the concept. The result is a magazine that serves as a digital caravan of story tellers who travel to tea origins and return with authoritative, elusive and exclusive articles, photos, and video that will help you discover your tea destiny.
Tea Journey inspires readers to discover and refine their taste in tea. The process of discovery cultivates an appreciation for the craft of growing, processing, and preparing great tasting tea — thereby opening doors to greater awareness of the good things in life. Tea is proven to enhance the well-being of those who drink several cups a day. Discovering a favorite tea increases the frequency of consumption which becomes a daily ritual and, in time, a healthy life-long habit.
Tea is more than a beverage, it is a universal experience and Tea Journey is the bridge that connects us all.
Sources: FAO Intergovernmental Group on Tea
This post is generously sponsored by Tea Journey.