by Michael Graziano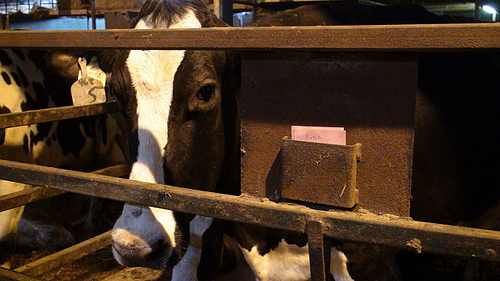 The first draft of this article contained an introduction on industrial logic and the potential consequences of large-scale production.  I realized, with more than a bit of self-contempt, however, that this is a blog post and that the object of this blog post is transparency – specifically, transparency with regard to farming and food production.  Not to mention how self-indulgent a précis on the effects of industrialism might seem to a casual blog reader.  With that in mind, I'd like to tell you about a long and rewarding conversation I recently had with my five-year-old daughter.
The conversation was about the importance of honesty.  Laying side-by-side on her twin-sized pink polka-dotted bed we discussed why her truthfulness, especially about things of which she feels unsure, helps her mom and I accurately address whatever insult, injury, damage, or drama caused her to obscure the truth (or flat-out lie) in the first place. To my surprise she quickly grasped the value of being open about her part in such things and articulated a hypothetical anecdote to explain why:
You mean like if I push Jomby (what she calls her brother) because he takes my toys and he hurts his knee, and then you're like 'why is he crying,' and I'm like 'I don't know, I think he bumped his head' … then you can't help his knee?
Yes.
Why Farm Transparency?
Transparency facilitates accountability and provides an easy and powerful tool for addressing harmful behaviors by children and businesses alike.
First and foremost, when food is raised in unclean and unsafe ways it increases the risks of contamination and food-borne illness.  Beyond this, moreover, lays the sometimes-uncomfortable fact – and the elephant in the room whenever questions of animal farming come up – that the creation of meat products requires animals to die.  Accepting this fact, in my opinion, begs important ethical questions about how animals are treated during their lives. And transparency is essential for resolving such questions.
Some people believe animals should never be raised for human consumption. While there are practical arguments on both sides of this debate that are reasonable and valid, the morality of meat is, I believe (going back to the elephant), something individuals must decide for themselves.  The reality of meat, however, is that millions of Americans eat it and demand for it worldwide is expanding.
The salient question then becomes: how can the negative aspects, practically speaking, of animal farming be prevented or at least diminished?
One way is to increase the awareness, understanding, and visibility of how animals are grown and processed.  Handling animals on industrial (or any scale) farms in inhumane, unsafe, or unhealthy ways should have negative consequences.   At the very least, people should know how their food is raised before they purchase it for themselves and their families. As someone who, at least in my mind, consumes meat sensibly (not everyday, not in large quantities, and, the occasional cheeseburger notwithstanding, without an excess of fat) I want to know as much as possible about the meat I do eat.  So I was excited when my filmmaking partner Ernie Park and I got the chance to document some actual working farms.
Applegate Farms, a New Jersey-based company that produces organic and antibiotic-free deli meat, bacon, sausage, hot dogs etc., hired us to produce a series of short films documenting the supply chains of their products.  You can view the two most recent films we've created for them on Vimeo, or check out our short film Snider Farm right here:
Documenting and helping to promote the work of conscientious farmers and food producers has been rewarding and we've learned things about the process we did not know.  We learned that the use of prophylactic antibiotics is what enables standard, conventional farm operations to crowd and constrain animals.  There is also good evidence to support the claim that antibiotic use in meat production is creating powerful treatment resistant strains of dangerous and potentially lethal pathogens.  We also learned that raising animals according to organic standards can increase their welfare even more.
Making Transparency Clear
Having filmed on a dozen or so farms of different sizes and styles in the US and abroad I was genuinely surprised to learn that a series of so-called "Ag-Gag" bills had recently emerged in the legislatures of a number of important agricultural states.  These bills, supported by industrial agribusiness, would curb the ability of individuals to film or take photos on farms – in some cases making no distinction between activists using secret cameras, filmmakers, and journalists doing legitimate reporting.  The paranoid (and thus seemingly guilt confirming) spirits and letters of these proposed laws is appalling, not even mentioning that they would have made it more difficult and perhaps even technically illegal for us to make the films we've made for Applegate thus far.  Fortunately, the bills were defeated across the board…for now.
As word of efforts such as the Ag-Gags spreads it's my hope that people will demand from food companies what my five-year-old and brands like Applegate already understand: in the long run, openness and transparency are simply better. In the case of food production, transparency is better for the environment, better for workers, better for the quality of products, and better for consumers.
Not to say there aren't costs to transparency.  My daughter gets punished if she hits her brother, even if she tells us about it.  But when she is forthright of her own volition (i.e. transparent) about what she did wrong it improves her relationship with us, her relationship with her brother, and her own sense of self.   It also enables us, and her, to work on the behaviors that lead to the conflict and negative consequences in the first place.
Transparency, though, is not just about revealing wrongs.  A policy of transparency also increases the heft and visibility of revelations about good behavior.  This is something everyone can and should support.  As citizens and consumers we should demand transparency in food production and send those who oppose it to a big time-out (sorry … but I'd come this far with the parenting analogy and couldn't resist drawing it to its final and perhaps slightly cringe-y conclusion).
Michael Graziano is half of Uji Films, which Ernie Park and he formed in 2007. Their award-winning films have aired nationally and internationally in more than 100 countries and have screened at a variety of well-known film venues and festivals in the US and abroad. Their recent film Lunch Line is currently on a nationwide screening tour, will be part of a special exhibit at The National Archives this Fall, and was recently selected as one of six films to participate in the Whole Foods Market "Do Something Reel" traveling film festival where it screened at cinemas in 70 cities in April 2011.
[Image Credit: Creative Commons photo by calmaction]