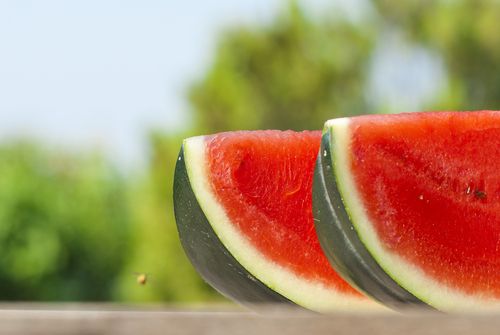 Chamberlain Farms, the farm associated with the salmonella-contaminated cantaloupe in August, is now recalling all watermelons produced on their farm. The watermelon is contaminated with a different strain of salmonella than the salmonella that was the cause of an outbreak of illness.
Two people died in the outbreak of salmonella typhimurium earlier this summer. At least another 204 were sickened; seventy-eight of those were hospitalized. The FDA traced the outbreak back to cantaloupe from Chamberlain Farms. At this time, the FDA has not announced the source of the salmonella (on the farm, in the packing house, on the trucks that carried it to market), but they say more information will be forthcoming soon.
During the investigation into how the salmonella typhimurium got onto the cantaloupes from Chamberlain Farms, state officials found salmonella newport on the watermelons. So far, no illnesses have been reported in connection with the watermelons.
The watermelon was sold in Missouri, Illinois, Wisconsin, and Iowa through Schnucks, Logli, and Hilander stores. The watermelon can be identified by a sticker that says, "Indian Hills – Product of USA". It was also sold in Indiana at Schnucks, but without a sticker. Watermelon purchased before September 7 at an Indiana Schnucks, or watermelon with the sticker, can be returned to the store for a full refund.
Watermelon photo via Shutterstock