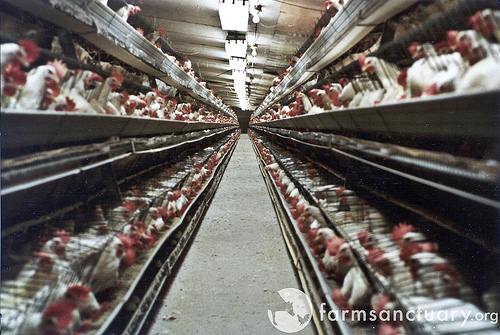 While greenwashing is the practice of making false or meaningless green product claims, humanewashing is the practice of misleading consumers through claims made by factory farming meat, dairy and egg producers that their product was made from humanely-raised practices.
There is much discussion in the state of Washington these days of "welfare standards" for poultry by think tanks that include a surprisingly diverse group, ranging from university research experts, poultry industry reps, USDA officials, farmers, food safety experts and more.
But welfare for them cannot simply be defined as a more compassionate approach to raising egg-laying birds (the common consumer expectation). It is far more complicated than consumers would imagine. And that's how The Washington State Veterinary Medical Association (WSVMA) justifies a rejection of Initiative-1130, also known as the Prevention of Farm Animal Cruelty Act. 
Washingtonians for Humane Farms is spearheading the initiative aimed at factory farming and is backed by The Humane Society of The Unites States, Farm Sanctuary and other key animal welfare organizations. Their collective goal is to get enough signatures to get the measure added to the November ballot.
Essentially, Initiative-1130 would outlaw all commercial, caged housing systems that do not allow birds to enter and exit at will. The initiative would also restrict commercial egg production to a "cage-free" environment.
One might for a moment think that the WSVMA would be concerned only with the humane treatment of chickens and support an initiative to ban what is arguably one of the most cruel and inhumane practices in modern agriculture: the battery cage. But somehow their rejection of battery cages in favor of a cage-free system is based on a variety of other factors which strangely have nothing to do with being veterinarians.
In fact, WSVMA's criticism of Initiative-1130 is not what you would expect at all, not focused on the physical and psychological health factors that promote the welfare of chickens. Instead WSVMA's criticism is based on factors completely outside of their expertise and jurisdiction. One of these concerns I will call "poultry flight."
In the words of Dr. Debi Wallingford, a past-president of the WSVMA:
a vote to simply eliminate cages could drive the seven major producers and 6.5 million laying hens out of Washington and into states with even less protections for hen welfare; something we oppose. If that happens, some 1,500 jobs would be lost and about a $285 million economic impact and $47 million loss in employee earnings.
Yes you heard right. Wallingford is a practicing vet turned economic analyst, or so we are to believe.
What Dr. Wallingford fails to mention in her economic analysis is that if Initiative-1130 should pass and even result in her prediction that Washington poultry producers would flee to other states with less regulation, these same producers would also be cutting their own throats. They would not be selling battery hen eggs back to Washington consumers.
WSVMA makes other stumbles in its case against Initiative-1130, saying that it does not take into account the "availability of eggs recognized as the single most accessible form of high quality protein in the human diet."2Of course the fact that eggs might also provide the highest concentration of artery-blocking cholesterol in the human diet is ignored. The fact that there are an abundance of plant proteins with little or no cholesterol or saturated fat content is also ignored. But worst of all the suggestion that we might eat these plant proteins in place of eggs to reduce animal suffering is not mentioned by those that we expect to be the greatest champions of animals: the veterinarians. Why? Because their livelihood depends on the very industries, like factory farming, that use and abuse animals.
Such critical nutritional facts could threaten the mission of promoting eggs, that is, the mission of the United Egg Producers (UEP). And, you guessed it, UEP, the leading egg trade association, also not surprisingly opposes 1130 and instead proposes its own Senate Bill (SB) 5487.  And since the WSVMA member vets depend on work from the egg industry, it is no coincidence that they should eagerly embrace UEP's position.
So why is Senate Bill (SB) 5487 being touted by the egg industry and its veterinarians as a better solution than Initiative-1130? They claim that 5487 establishes a certification program for US commercial egg laying chicken operations that will provide the nation's strongest certification and auditing program based upon guidelines developed by scientific panels at the United Egg Producers (UEP) (pdf), and the American Humane Association (AHA), the oldest animal welfare group in the nation.  And in an attempt to show their good faith effort in involving the animal welfare movement, they claim that Dr. Newberry, regarded as one of the nation's foremost poultry behaviorists, was a member of the UEP's scientific committee and helped develop the standards.
UEP defends the evolution of the factory farming battery cage system as an inevitability driven by market forces outside of the egg industry's control, arguing that
The modern cage system has eliminated most diseases of the 1940s, provided the hens with protection against the weather (environmental controlled housing) and predators, while also improving food safety, the environment (air and water), and animal welfare.1
What they fail to admit is that these very same conditions are responsible for the largest egg recalls in history just last year and countlessinvestigations exposing the extreme cruelty of millions upon millions of hens forced to live in a cage smaller than a letter size sheet of paper—all of its life.
Critics of UEP's proposed Senate Bill 5487 argue that it is simply designed to codify existing cruel and inhumane standards for egg-laying hens in factory farming situations. "Washingtonians care about the humane treatment of all animals, and do not support … the egg industry's veiled attempts to codify their abusive practices," said Dan Paul, The HSUS' Washington state director.
1: United Egg Producers Animal Husbandry Guidelines for U.S. Egg Laying Flocks 2010 Edition
2: PR Newswire
Image Credit: Creative Commons photo via Farm Sanctuary