Teaching kids about real food is so important. And while school gardens are relatively mainstream, edible education in school can be difficult. That's why food educator Carolyn Federman and designer Brian Dougherty combined their superpowers to create the Charlie Cart.
Carolyn states on the Charlie Cart Project's Kickstarter page: "Most schools don't have kitchens that teachers and students can use. So to teach cooking, food educators must cobble together hot plates and plastic bins and whatever we can get our hands on. I started thinking that there's GOT to be a better way."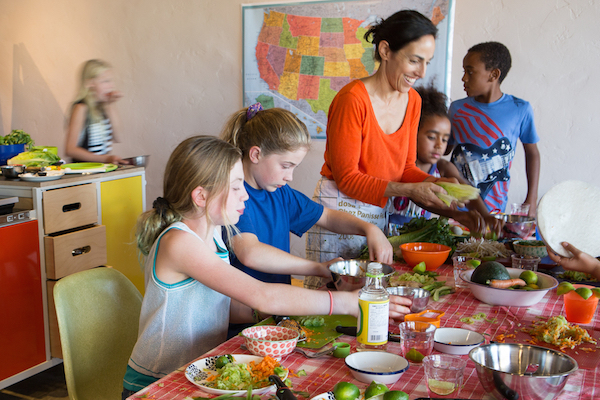 The Charlie Cart combines tools for mixing, chopping, cooking, and cleaning in one colorful, mobile package inspired by the humble chuck wagon. It boasts an induction cooktop, a convection oven, and a rinsing station with a hand-pump faucet — even a greywater recovery system. Drawers and cabinets organize a collection of utensils, cutting boards, mixing bowls, and cookware.
All any youngster needs to transform ingredients into healthy, delicious plates of real food.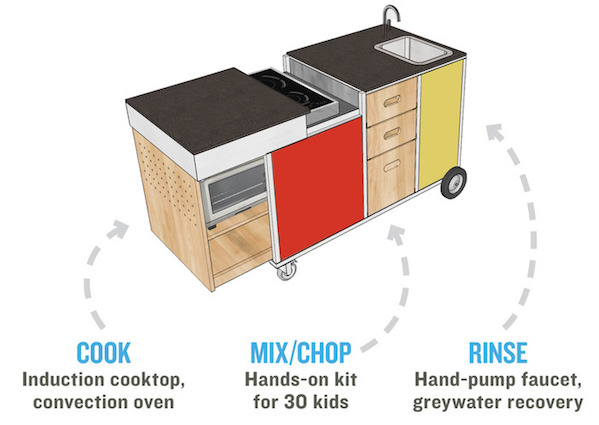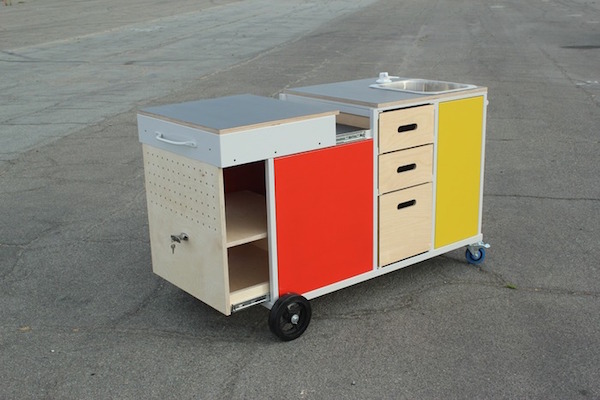 Much of the equipment was donated by partner companies like Breville, OXO, and Williams-Sonoma. And The Charlie Cart team worked with the Edible Schoolyard Project to develop lesson plans to teach Kindergarten through 8th-grade students culinary and food knowledge skills.
The Charlie Cart Project will help make science more real and interesting and memorable than most standard curricula do—and just as importantly, it will encourage students to think about what they eat.

– Harold McGee, Advisory Board Member
I love this project.
Charlie Cart's Kickstarter campaign was funded in December, 2014. This year, the team is piloting this mini-kitchen on wheels in three California schools that have limited access to gardens and cooking. Its plan is to have Charlie Carts across the country. With a powerhouse Advisory Board including food heroes like Alice Waters and Michael Pollan, the future for our children looks bright.
You can reserve one for your kid's school for $8,000. It'll be delivered this fall.
Learn more about the project on The Charlie Cart Project's website. Giada DeLaurentis also interviewed Carolyn in the Sharing Issue of Giada Weekly.
Bringing back home ec in a whole new way. Good stuff!
Image Credits: The Charlie Project