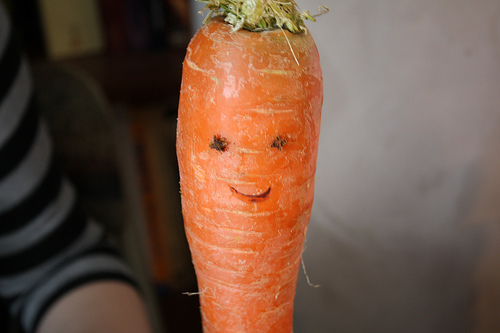 Do you feel like a meal isn't a meal without meat? If you're vegan or vegetarian, did you ever feel that way before you made the leap? I would love to hear your thoughts!
Last week, I had the good fortune to help out a local CSA at an Earth Day event. We set up a table and spent a couple of hours talking local food. Food is my favorite thing to talk about, so the afternoon flew right by!
There was one conversation that Margie, who runs that CSA, had that I sort of opted out of, though. A woman asked if we delivered meat because, "It's not a meal without meat. It's a snack." It struck me as such a closed-minded statement that I just didn't even know where to begin. Since I was there to represent Margie's business, it also didn't really feel like the time to try to dissuade her. That statement has been gnawing at me, though, so I thought I'd bring it up here.
That's not the first time I've heard "It's not a meal without meat," and I have to be honest here: I don't understand this at all. It's never been true for me. Not that I grew up vegan. We ate meat, but it wasn't an every meal situation. Even when we did have meat on the table, it wasn't always the star of the show, if you know what I mean. So when someone says meat makes a meal, I just feel like I have no frame of reference at all.
The only reason I can think of is that when people picture a meatless meal, they imagine their current standard "meat and three" type dish and remove the meat from that picture. Of course that sounds awful! What's left, right? An iceburg salad, some overcooked green beans, and maybe corn on the cob, if you're lucky? No, thank you!
There are so many meals that don't have a drop of meat and are super satisfying!
Really, I could go on and on.
The thing is, this doesn't make me a great vegan advocate when someone brings up the old "meat = a meal" thing, so I'm turning to you guys! Do you feel this way? Why? If you did, and you moved past that mindset, what changed things for you?
{Image Credit: Creative Commons photo by kyntharyn}