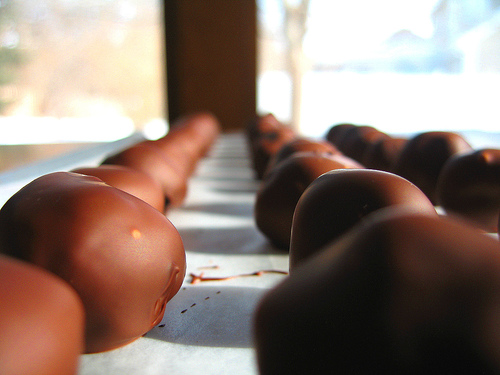 We've talked about the chocolate question before, but that just scratches the surface when it comes to vegan desserts. Lately, I've been really craving that most decadent of chocolates: truffles!
Here are five delicious truffle recipes, including tips for veganizing, where necessary.
5 Vegan Truffle Recipes

This is a nice, simple recipe for chocolate truffles. To veganize, just make sure you're using vegan baker's chocolate. You can substitute soy or almond milk, cashew cream, or coconut milk for the heavy cream. Instead of butter, use Earth Balance or another unhydrogenated vegan margarine of your choice.
This recipe from Amy Bell is already fully vegan!
Yum! This is another one that's easy to veganize. Just make sure the chocolate and chocolate chips are vegan. Whole Foods' in-store brand of chocolate chips would work, as would Ghirardelli's semi-sweet chocolate chips. Canned, full fat coconut milk would be an amazing substitute for the heavy cream in this recipe!

Gingery chai tea! What a perfect flavoring for a decadent batch of truffles. This is another one where I think full fat coconut milk would make a great substitute for the heavy cream. Grab vegan bittersweet chocolate, and you're ready to make truffles!
This looks easy peasy to veganize. Just use Earth Balance or your favorite vegan margarine in place of the butter, and you're good to go!
Do you guys have any favorite vegan truffle recipes? I'd love to hear about them in the comments!
If making truffles isn't your thing, you can find store bought ones that are vegan. Just do some careful label reading, and be on the lookout for these common animal ingredients: cream, milkfat, butterfat, butter, and eggs. Whole Foods' truffles that they put out around Christmas are vegan. Do you guys know of any other pre-made vegan truffles? I'm sure they're out there!
Image Credits: Creative Commons photos by queen_of_subtle and cacaobug