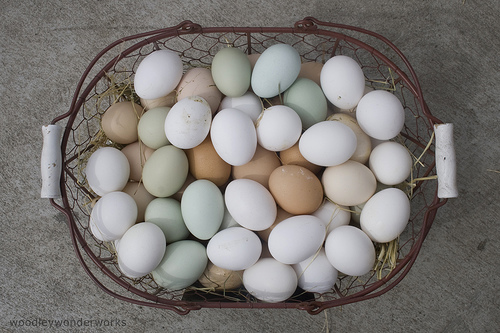 Last week, a commenter on my post about giving up cheese mentioned that eggs are a real stumbling block for her. She didn't specify whether it was eggs in baking or the whole egg that she missed, but either way it's a topic that bears addressing!
While I can't promise that there's a reasonable vegan equivalent for something like deviled eggs, there are lots of options to satisfy your eggy desires without any animal products!


Baking
There are a ton of different ways to substitute eggs in baking, and the Worldwide Vegan Bake Sale website covers all of my favorites. The key with eggs is that sometimes they're being used for binding in recipes, sometimes for moisture, and sometimes both. It might take some experimenting to get the right replacement.
Luckily, you can find whole recipes for pretty much anything you'd want to make. I highly recommend Vegweb for baking recipes.
Breakfast and Brunch
Giving up eggs doesn't have to mean giving up your favorite breakfast and brunch foods! Check out this awesome frittata recipe from Veg Cooking. If a simple scramble is what you're after, the PPK's tofu scramble is my favorite. It's really flexible, too! You can use whatever veggies you have on hand.
Commenter Cheeseless had an intriguing recommendation in the omelet department:
About the eggs…Vegan Brunch by Isa Chandra Moskowitz has some tofu omelette recipes that feature black salt, which has a very sulfuric smell/taste that is similar to eggs. So similar in fact, that I made it and then couldn't bring myself to eat it!!! But if you are craving eggs, it might be perfect!
I'm definitely going to be on the hunt for some black salt! My omnivorous husband might enjoy an eggy-tasting omelet.
For a starchier breakfast option, these 5 Minute Pancakes are a family favorite in my house. Sometimes we mix in blueberries or banana, too!
I also really like the look of 101 Cookbooks' Spinach-Mushroom Quiche!
Elsewhere
Giving up eggs also means giving up conventional mayonnaise, but don't despair! Veganaise makes a mayo substitute that is out of control delicious. I will not name names, but do not be fooled by some other brands of soy mayo! Most of them taste really fake, but I promise you that Veganaise tastes just like the real thing. You can find it at your local co-op or at Whole Foods.
One of my favorite Veganaise-based recipes is Fegg Salad. It's not quite like an old fashioned egg salad sandwich, but it's definitely delicious! It's great in sandwich form or on a bed of greens.
Tofu is a pretty good egg substitute for things like fried rice or in soups. Just crumble firm tofu in at the same time that you'd normally scramble in an egg.
So, this is where I turn to you guys: did that answer your eggy questions? Are there other places in your diet that you'd miss the egg that aren't covered here?
Image Credits:
Eggs. Creative Commons photo by wwworks
Vegan Sweet Potato Muffins by Becky Striepe