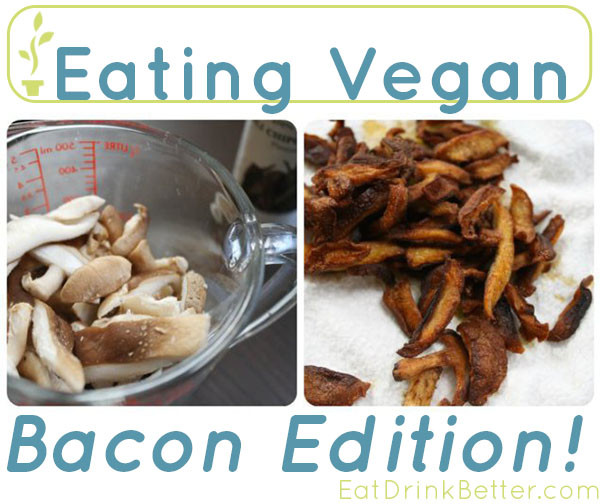 Worried that eating vegan means giving up your bacon habit? Try one of these nine vegan bacon recipes. You're sure to find one that works for you.
Just last week we talked about some of the serious health and environmental problems with bacon. But let's get real, y'all. People love bacon. I get it. Bacon it salty and smoky. It's basically strips of umami that enhance the flavor of everything. The good news is that we don't need to slaughter pigs and ruin the planet to get that yummy, greasy, smoky flavor.
Related: 9 Vegan Foods to Lower Blood Sugar
There's a joke in the vegan community that vegans will turn anything into bacon. Really, though, it's not a joke. Vegans love our bacon as much as anyone else. Ours just doesn't come from pigs. Big thanks to Vegan Street for sharing this graphic: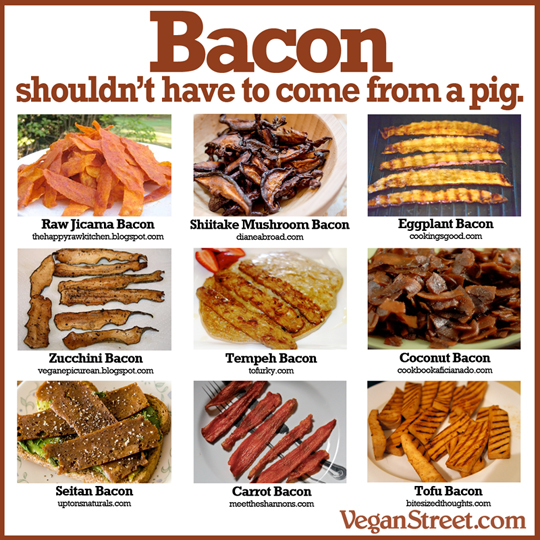 The great thing about vegan bacon is that with so many options, you're sure to find one that suits your tastes. I'm partial to shiitake bacon or coconut bacon myself. Coconut bacon is one of the foods I pack for road trips when I know vegan options will be limited. Andrea at our sister site Vibrant Wellness Journal is super into tempeh bacon.
Below are links to recipes for all of the vegan bacon options listed in the Vegan Street graphic. Some of the links I'm providing aren't the same sites listed above. Where possible, I wanted to link to recipes that I've made and liked.  I also replaced any pre-packaged vegan bacons with recipes to make your own.
Vegan Bacon, 9 Ways
5. Tempeh Bacon
7. Seitan Bacon
9. Tofu Bacon
Which vegan bacon recipe is your favorite? Or have you made vegan bacon from something not listed above? Tell us about it!