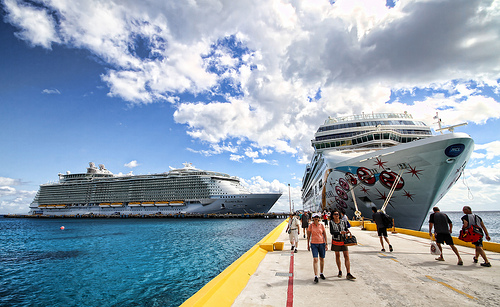 Cruise ships are known for their abundance of food. Is any of that food good for you? And is it possible to eat a vegetarian or vegan diet while on a cruise?
Food Availability
It is impossible to go hungry on a cruise ship. At least two buffets are constantly open. Most restaurants and bars have food available for order until late at night. Servers at the restaurants encourage the ordering of multiple entrees and desserts. If you plan on staying on your diet, the odds are against you. Self control is a must. The key is to try to maintain a normal schedule and eat the same number of meals you would usually eat at home. Keep busy in between meal times to prevent snacking.
Portion Sizes
Even though food is planted around every corner, the portion sizes available are quite normal. Dining halls and restaurants that serve you provide average serving sizes. If you would like to overeat, you have to request extra entrees. Now, eating at a buffet allows you to eat larger portion sizes than needed, and self control is needed. Some late night snack places even have finger foods if you need just a little something.
Healthy Options?
I just returned from a Royal Caribbean cruise, so I can only speak of the options available with them. I was thoroughly surprised at the healthy options with them. Breakfast buffets were loaded with fruits and whole grains, lunch buffets had so many vegetables. Each day had different salads and other options. I was nervous I would only have the options to eat grains, meats and sweets. That was definitely not the case. If you want to have healthy options on a cruise, there are plenty to choose from.
Vegetarian & Vegan
I am not vegetarian or vegan. I did go on a cruise with my vegetarian mother and vegan cousin though. The servers at each eatery on our ship were more than accommodating to their needs. I felt as a meat eater I had many more options though. The sit down dinner menus offered one to two vegetarian options a night, while there were about seven for the rest of us. I have a feeling there will be more vegetarian and vegan options as more people request it.
Hopefully this post will not seem like a plug for Royal Caribbean. While I did have an excellent time, I simply wanted to post about the food options available.
Image credit to creative commons user runekrem