Spring is here! If you're eating seasonally, these five spring veggies and fruits are unmissable.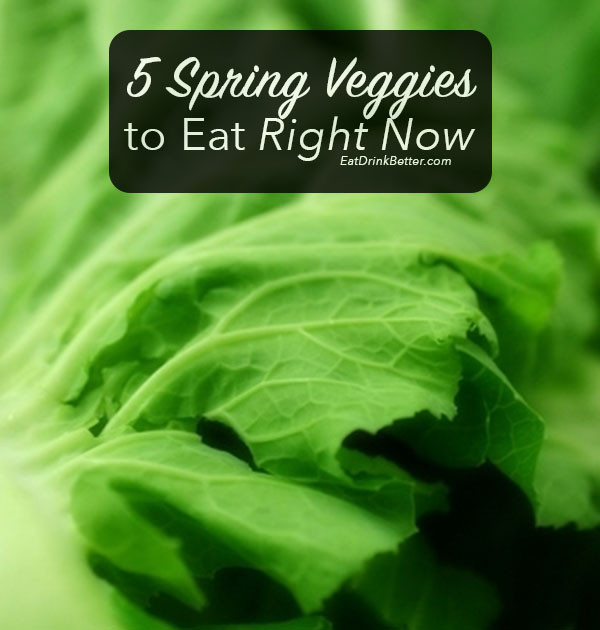 Eating seasonally is one of the best ways to reduce your foodprint.  By eating food grown in season, you're more likely to eat locally, cutting down on the amount of miles your food travels.  Obviously, if you're getting asparagus in December, it's probably not from your area, unless you live in Argentina.
Eating seasonally means your product is likely fresher, meaning it's going to taste better and retain more nutrients.
If you regularly eat in-season, you know that the winter can drag on and the promise of spring produce is sometimes the only thing getting you through long months of squash and brussels sprouts.  When asparagus start appearing on the scene, you know spring has sprung and produce will only get better until after the seemingly far away fall harvest.
If you're new to eating seasonally, spring is a great time to start.  Personally, the coming of spring is highly anticipated, and the weekly surprise of what's new to the farmers market just adds to my anticipation of warmer weather.  Here's five food, their nutritional benefits, and ideas for recipes to get you excited for spring eating.
1. Asparagus
For many, the crown jewel of spring produce and the indicator that my diet is about to change, is asparagus, which will start showing up around April.  Asparagus are low-calorie and low-fat, and are full of folic acid, fiber, potassium, vitamins A & C and B vitamins, and are easy to prepare.  They can be steamed, grilled or roasted, added into pastas, omelets, or soups, or eaten raw.  One of my favorite ways to cook them is in a foil packet with some fish on the grill–really easy, delicious, and healthy.
2. Avocados
Avocados got a bad rap for being a high-fat fruit, but most of that fat is heart-healthy monounsaturated fat.  They're a great source of potassium, B vitamins, and Vitamins E and K.  They also more fiber than any other fruit.  Forget all those good-for-you things: avocados are addictively delicious.  Their buttery texture makes them a perfect base for dips and sandwich spreads, including the avocado's most famous incantation (and my favorite) guacamole.  You can also add slices of avocado to veggie sandwiches and wraps, tacos and burritos, or salads.
3. Leafy Greens
Leafy greens like lettuce, spinach, watercress, and mustard greens are packed with vitamin C, folate, fiber, iron,  minerals, beta carotene, and antioxidants.  They are incredibly versatile–salads and sandwiches are the obvious choice, but they can also be added to soups, pastas, or stir-frys.  Gone are the days when iceberg was the only lettuce choice.  Now you can experience the flavor varieties of arugula, frisee, romaine, or escarole.   Try something new–you just might love it.
4. Peas
My childhood experience of peas is largely based on the mushy, greyish-green canned variety, but there's so much more to fresh peas.  They're high in protein, Vitamin A & B6, folates, and minerals.   Peas can be eaten raw in salads, steamed in a simple side-dish, or in casseroles, pot pies, pastas, or stir-frys.  I just like them as an easy raw snack or lightly steamed with a little butter, salt, and pepper.
5. Apricots
Apricots are one of the first sweet spring fruits, coming typically in May.  They're full of Vitamins A & C, iron, potassium, and fiber.  Like most sweet fruits, they can be used in a plethora of baked goods and desserts, from tarts to muffins.  They're also a great snack eaten raw or dried.  However, apricots are continually used in savory dishes to provide a balance since they are less sweet than other stone fruits.  They can appear in dried form in chicken dishes, and can be grilled with savory ingredients in paninis.
Don't stop with these five.  Spring also brings rhubarb, green onions, fennel, artichokes, and  new potatoes, and before you know it, summer's bountiful produce will make its way to your table.