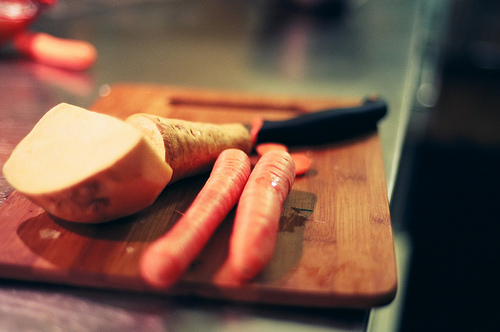 Lets face it; we all cut back on 'healthy' foods when we don't have money in the bank. Our priorities are kids, gas, rent, bills, pets and survival, not healthy food. As a vegetarian on a limited income I've had to come up with new ways to be healthy and eat well. How can you afford to eat healthy when your budget is tight? Here are a few tips that work for my family.
Stock your pantry with staples
In our house we keep lots of mix and match foods around. We use recipes that are easy and cook things that we can freeze, which keeps our freezer stocked with ready-to-heat meals for busier evenings. Our cabinets contain:
Whole grain pasta
Pasta sauce
Green chilis
Canned white, red and black beans
Natural, unsweetened peanut butter
Honey
Oatmeal
Coffee beans
Olive oil
Organic sugar
Canned, organic corn
Tomato paste
Brown rice
Crackers
Popcorn (whole kernels not a box)
Whole Grain Cereal
Pretzels
Better than Bouillon soup base
Flour, baking supplies etc…
It's important to have a well-stocked fridge, as well. Our fridge contains:
Almond milk
Juice
Greek yogurt
Tofu
Chives
Cage free eggs
Organic cheese and butter
Condiments
Salad dressing
Garlic
Seasonal fruit and veggies.
I mentioned above that we freeze our leftovers, and we've got a few other staples in the freezer:
Frozen, organic veggies
Veggie burgers
Frozen mixed berries
Frozen bread
Vegetable burritos
Green chili tamales
Leftover frozen soup or chili.
We can create many meals and variations with this group of ingredients. Homemade vegetable soup and chili make great meals on their own or to round out a smaller meal.
Shop smart
Go to the grocery store with a list and a full stomach. Use coupons for the things you need, and don't be enticed to buy junk just because you have a coupon. Junk is still junk.
To reduce your food waste and save money, buy only what you need and will be able to eat in next two weeks. A sale on broccoli is great until half of it goes bad in the fridge. Instead, know the foods you usually purchase and shop around. We buy a few things from a regular grocery store and the rest comes from the co-op or health food store. You can also take advantage of farmers markets for produce, bulk foods and eggs.
Eat out less
Eat a good breakfast, and pack your lunch. It's easy to give in to the "I don't have time so I'll grab a coffee on the way to work" excuse, but your budget will thank you if you stay strong. You can treat yourself to a fancy coffee once in a while, but try to make it the exception not the rule. Planning is key to resisting convenience foods and eating out.
Staying healthy on a budget just takes a little knowledge and finesse. Have fun with it!
Amy works hard to maintain a heathy standard of living in her household while on a budget. Between jobs, she works as a freelance writer with Rubbermaid and Continental.
Image Credit: Creative Commons photo by nurpax