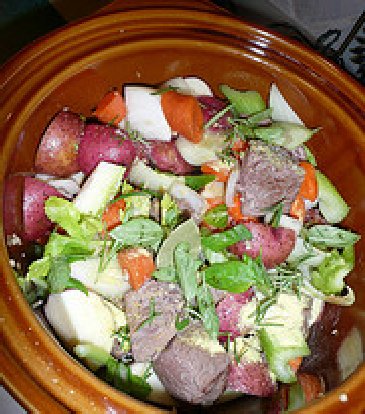 Everybody is feeling the 'credit crunch' and there are fears that people will be forced to buy cheaper and less healthy food as a result. But there are ways that we can all use the current energy and cash crunch to improve our diets and save both costs and energy.
Slow cooking saves you time, money and energy
Fast food is energy and packaging intensive – the energy used to precook and process foods, packaged them and then transport them is considerably more than we would use is we bought fresh local food and prepared it ourselves. In autumn most of us will discover that local fresh fall food is probably some green and many root vegetables, and many of us won't be familiar with cooking methods to make many of these crops into tasty dishes.
Enter the crock pot – a slow cooker that usually consists of a electric element that surrounds a ceramic cooking dish and lid. It offers a way of cooking dense foods slowly without supervision and without using the energy that ovens and hobs require. Most vegetable only or meat and vegetable combinations can be left to cook for eight to 10 hours because the meal won't burn if left longer than expected and you don't have to worry about the electricity bill because crock pots are very economical: low wattage equipment running for an extended period costs less than high wattage equipment used for a short time.
There are other advantages: foods, especially cheaper cuts of meat, that are cooked slowly are more tender; the one-stage preparation system means that working parents can prepare a meal in the morning and come home to find it cooked in the evening; in summer the food cooks but the chef doesn't, as a crock pot doesn't heat the kitchen in the way that other cooking methods do and best of all, at the end of the cooking time there's just the ceramic pot and lid to wash – less dirty dishes.
Some crock pot tips
Heat the pot according to the manufacturer's instructions and prepare the food according to your recipe before adding ingredients to the cooker – some meats (like poultry) must be heated thoroughly before slow cooking and pulses should be boiled to ensure toxins are destroyed.
Don't be tempted to lift the lid! It adds 20 minutes to the cooking time whenever you do.
Sauces will not thicken in a slow cooker so you may wish to add cream or cornflour for the last hour of cooking time to make them more substantial
Crock Pot Autumn Stew
You can vary the ingredients in this meal according to what is cheap and good in your locality – if you can't get squash try potatoes, sweet potatoes or rutabaga. You can also use lima or pinto beans instead of garbanzos
2 cups cubed butternut squash
2 cups chopped carrots
2 onions, chopped
1 cup chopped zucchini
2 (14 oz.) cans chopped tomatoes
15 oz. can garbanzo beans, rinsed and drained
14 oz. can vegetable broth or home-made vegetable stock
2 cloves garlic, minced
Herbs and seasoning to suit your family.
Add all the ingredients to a four quart slow cooker and mix well to combine. Cover and cook on low for 7 to 9 hours or until vegetables are tender. Sprinkle with cheese before serving with crusty bread.
Slow cooker photograph courtesy of lindyireland at Flickr under a Creative Commons Licence