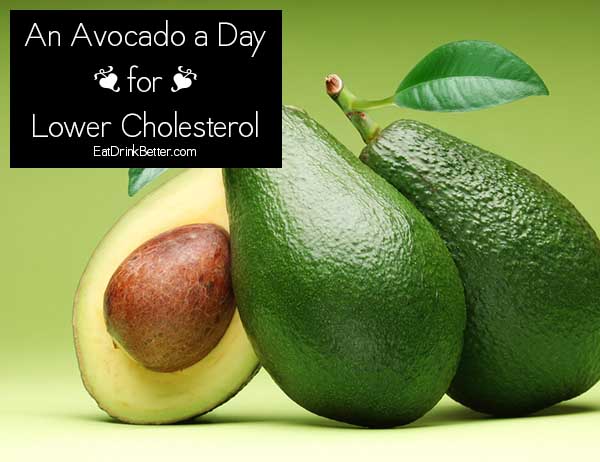 We've long known about the healthy characteristics of avocados. While they're high in fat, it's the heart-healthy kind. They have anti-inflammatory properties, particularly effective for treating arthritis symptoms. They help regulate blood sugar levels. High in fiber. Low in carbs and sugar. The list goes on and on.
And the news just got better. A new study published in the Journal of the American Heart Association found that eating an avocado a day as part of a moderate‐fat, cholesterol‐lowering diet decreases bad cholesterol in obese and overweight adults.
Pennsylvania State University researchers put 45 obese or overweight adults on three different cholesterol-lowering diets for five weeks. One group ate a low-fat diet. Two ate moderate-fat diets similar in terms of protein, calories, and fat. The two moderate-fat diets differed in only one way: One group's diet included a Hass avocado a day, while the other included the same amount of fat from other sources.
Researchers found a significantly higher decrease in LDL cholesterol levels in the group eating avocados. The avocado diet decreased LDL cholesterol about 14 milligrams per deciliter of blood, about twice the reduction realized as a result of the other moderate-fat and low-fat diets.
Great news for avocado lovers everywhere! But eaters beware: One serving of avocado is 1 ounce — about 1/5 of a medium avocado — and contains 50 calories. So be conscious of the calorie impact of adding an avocado a day to your diet.
If you're looking for delicious ways to incorporate avocados into your diet, check out these recipes for Avocado Quesadillas, Quinoa, Kale, and Avocado Salad, and Avocado Salad Dressing.
P.S. The avocado is also awesome to use in natural beauty treatments. Learn how to make a moisturizing mask and fight frizzy hair at our sister site, Feelgood Style.
Will you be adding an avocado a day to your diet?
Image Credit: Avocados via Shutterstock