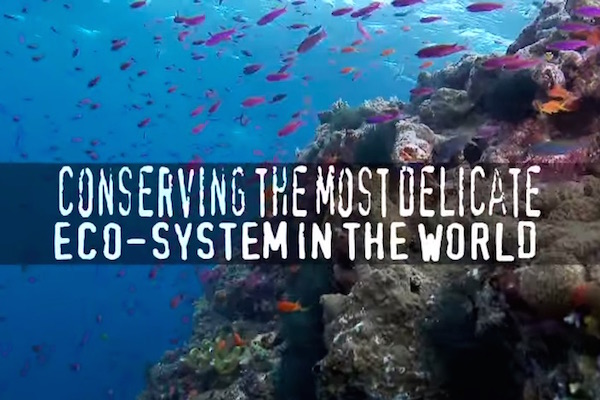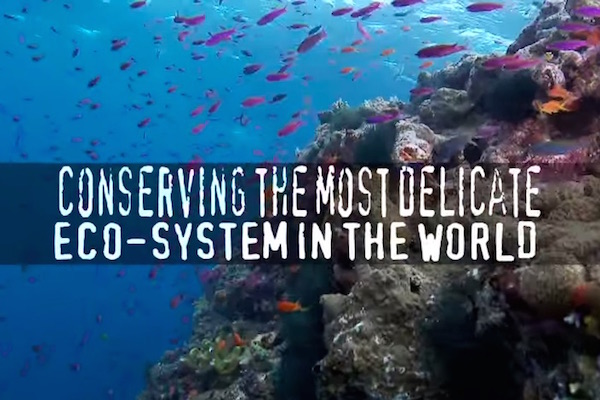 What happens when a 21-year old girl meets the crew of an anti-whaling ship? She joins them to help protect endangered marine creatures and the delicate balance of our ocean ecosystem. She becomes one of their cooks, providing healthy, hearty, vegan food in a unique environment. And a fascinating cookbook full of easy vegan recipes is born.
The girl's name is Laura Dakin. She runs the galley on the ship Steve Irwin — one of the Sea Shepherd Conservation Society's fleet. The Sea Shepherd Conservation Society is a Washington-based non-profit marine conservation organization. Its mission is to "end the destruction of habitat and slaughter of wildlife in the world's oceans in order to conserve and protect ecosystems and species." It's a global effort — with crews and volunteers investigating, documenting, educating, and advocating. A fleet of ships sails the ocean, searching out and confronting those seeking to illegally kill whales, dolphins, and sharks. Onshore volunteers and regional chapters work to raise awareness.
What Do You Cook for a Vegan Sailor?
As a cook on the Steve Irwin, Laura is responsible for feeding a crew of 50 for 100 days at sea. Being at sea means she has to plan carefully and purchase enough food and drinks to last that long — once they leave port, there's no turning back. The menu is vegan because the Sea Shepherds recognize that eating a vegan diet is one way to protect the world's oceans and the marine life it contains.
Laura has just written the Official Sea Shepherd Cookbook — Cookin' Up a Storm: Sea Stories and Vegan Recipes from Sea Shepherd's Anti-Whaling Campaigns. I had a chance to review the book and it's much more than just a vegan cookbook. Yes, Laura shares dozens of easy vegan recipes that will help vegans and non-vegans alike learn to eat more sustainably. But she tucks in stories about life at sea on an anti-whaling ship, providing a glimpse of what it is like to cook on a ship dancing atop waves that often become quite violent, when: "Even walking from the sink to the workbench is a precarious adventure, and chopping an onion seems an impossible task."
Part cookbook, part food memoir, and part educational tool, I (who am not vegan) appreciate this book for so many reasons. Laura's passion and compassion are clear. I learned things about our ocean ecosystem I didn't know; it will make me think differently when planning meals. And her stories are well-written and entertaining.
Here's one of her recipes I think you will enjoy, if you're a pasta lover like me.
Taste-of-the-Sea Spaghetti
from Cookin' Up a Storm: Sea Stories and Vegan Recipes from Sea Shepherd's Anti-Whaling Campaigns by Laura Dakin
Ingredients:
1/2 cup (125 ml) olive oil
10 cloves garlic, minced
3 red onions, finely diced
6 sheets nori, cut into thin, short strips
2 large tomatoes, diced
2 teaspoons (10 ml) reduced-sodium tamari
1 teaspoon (5 ml) freshly ground black pepper
2 pounds (900 g) spaghetti
6 tablespoons (90 ml) nutritional yeast flakes
Directions:
Put the oil and garlic in a large, deep skillet or saucepan over low heat and cook, stirring almost constantly, until the garlic is golden brown, 5 to 8 minutes (the longer and slower the garlic cooks, the better). Add the onions and nori and increase the heat to medium. Cook, stirring frequently, until the onions are soft and translucent, about 10 minutes. Decrease the heat to low. Add the tomatoes, tamari, and pepper and cook, stirring occasionally, for 30 minutes.
While the sauce cooks, prepare the spaghetti according to the package instructions. Drain and transfer to a large serving bowl. Top with the sauce, sprinkle with the nutritional yeast, and toss until evenly distributed.
Makes 6 servings. Per serving: 750 calories, 23 g protein, 20 g fat (1 g sat.), 121 g carbohydrates, 85 mg sodium, 47 mg calcium, 9 g fiber.
I believe there may have once been a time when humans lived in harmony with the environment, when our relationship with the natural world was one of give and take; however, with the development of an industrial society and the farming methods and consumer extravagance that have followed, our relationship with the earth has become bleak.

– Laura Dakin, Cookin' Up a Storm
You can learn more about Sea Shepherds' work on its web site and by watching Animal Planet's show Whale Wars, which documents what it's all about. And check out the anti-whaling posts on our sister site, PlanetSave, which has been following Sea Shepherd's work for years.
In Laura's words: "Living sustainably is our privilege and responsibility." Thanks, Laura, for giving us this great tool to do so.
Image Credit: Sea Shepherd Conservation Society via YouTube