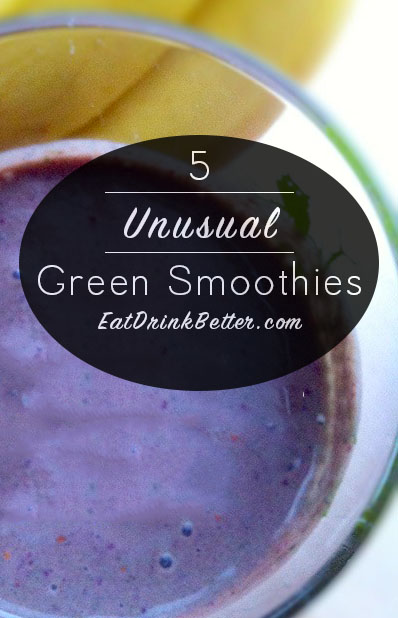 Whether you're new to green smoothies or an old pro, it's always fun to branch out with some new recipes. We've got some unusual and easy green smoothie recipes below along with some tips for making your smoothies better and faster!
Green smoothies are nothing new, but now that they've really caught on, folks are making some super stellar ones that I think bear mentioning. These are some easy green smoothie recipes to help you start a healthy morning habit.
When you need a quick breakfast, grabbing a granola bar or a slice of toast might seem like your best options, but I like how a green smoothie crams fruits and veggies into my morning routine with no refined sugars or grains. If you need a more substantial breakfast, a green smoothie is a great accompaniment to a bowl of oatmeal or even that toast that I totally bad-mouthed not one sentence ago.
Try these easy green smoothie recipes to sneak some fresh fruits and veggies into your morning.
5 Easy Green Smoothie Recipes
1. Tropical Ginger Green Smoothie – This recipe from Ashley at A. Cook in the Making uses broccoli stalks as the sneaky green! What a great way to use part of the veggie that you'd normally trash.
2. Chocolate Covered Cranberry Green Smoothie – You might think that a chocolate smoothie can't be healthy, but cocoa powder on its own is actually packed with nutrients. Instead of refined sugar, this smoothie gets its sweetness from healthy whole fruits.
3. Bloody Mary Green Smoothie – Take the bloody Mary beyond brunch! This zesty mocktail is a green smoothie in disguise.
4. Blue-Green Smoothie – This yummy green smoothie recipe uses walnut butter and coconut oil to keep you feeling fuller longer. Perfect if you're looking to fuel your morning workout with a smoothie!
5. Green Pumpkin Smoothie – Are you missing those Pumpkin Spice Lattes from fall? Blend up a warm-weather version that's healthier and caffeine free.
Quick Green Smoothie Tips
I've found two methods that work for making smoothies the night before.
1. For a truly grab-and-go breakfast, blend up your smoothie, then transfer to a mason jar with a proper lid. Stick it in the fridge, and give it a good shake in the morning before drinking. For this method, I like a sippy cup mason jar lid, so I can change lids and sip on the go without making a big mess.
2. If you have a bit of time, add your ingredients (except the ice) to your to go cup of choice the night before. In the morning, dump the contents into your blender, puree, and pour it right back into the cup. Boom.
Puree those Greens
The greens are key to most green smoothie recipes, but getting them pureed thoroughly can be a challenge. When I use my Vitamix, that's not really a issue, but sometimes I prefer making my morning smoothies in my old Magic Bullet, because cleanup is so much easier.
With the Bullet, getting those greens to a drinkable texture takes a little bit more patience. My first tip is to keep blending longer than you probably think you need to. Removing the tough stems also helps a less-than-stellar blender do its job.
You can also start with fewer greens – maybe half of what a recipe calls for – and up the ante as your palate adjusts.
If the texture of not-totally-pureed greens is totally putting you off, you can also try a greens powder. I have a bag of mustHave Greens that I use when I am in a rush.
Do you have a favorite green smoothie recipe? Share it in the comments!